The St Basils Big Sleepout is the oldest, longest running event of its kind in the world. It's one of our most popular annual events that has been described as 'eye-opening' by many. The challenge is to sleep out on a cold, winter's night in December to get a slight glimpse of what it could feel like to be homeless.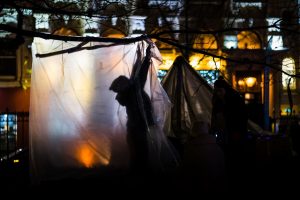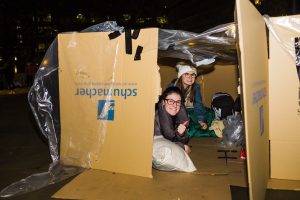 IMPORTANT INFORMATION:
We've had to make a few changes to this year's Sleepout, but rest assured its still the same great challenge!
The Big Sleepout will now take place at the Millennium Point on 3rd December 2021.
We are also now charging £10 per person. This is to cover the cost of putting on the event and to reduce the number of people who register but don't turn up. We still need people to raise sponsorship money on top of this for us to carry on the vital work we do in preventing youth homelessness.
As with every year, we will be running the much loved Creative Cardboard Competition for the best dwelling with a prize for the winner and there will be free vegan curry and hot drinks served by the brilliant Langar Aid.
Please read the Event Details and Terms & Conditions before registering.
Start your own JustGiving page here
Make a one-off donate to St Basils here
---
The Big Sleepout from Home
Start Date: 3rd December 2021 @ 6:00pm
Closing Date: 4th December 2021 @ 6:00am
Location: Home
We are also going to run the Big Sleepout from home at the same time, so if you can't make it to the actual Big Sleepout at Millennium, you can sleepout in your back garden, office work space, community hall or 'sofa surfing' at home. To let us know you are taking part from home, please email fundraising@stbasils.org.uk and we will send you your own Big Sleepout Pack.
---
We believe that the live stream broadcast we did on Friday 27th November 2020 was the first of it's kind by any charity in the UK and it would not have been possible with out the support of Andy Street, Sharon Thompson, David Urquhart and everyone at the Birmingham Cathedral, Sam Groves and Ian Francis and all at Flatpack, John Fell and all at the Moseley Folk Festival, Michael and all the band of Boat to Row, Colin Hutchinson and all at ThinkTank Birmingham, Drew Colby and all at Fingers & Thumbs Theatre Company, Sean Connolly, Steve and all the members of the West Midlands Fire Service Brass Band, Carriss Auburn and Bear Grylls. EVEN APART, WE WERE IN IT TOGETHER!
Check out our first live stream broadcast here, it's brilliant (even if we do say so ourselves!)  https://www.youtube.com/watch?v=MmCrvuDh7jE&feature=youtu.be