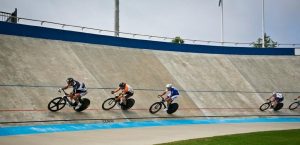 A Velodrome Fundraising Event, organised in partnership with British Cycling, is a sponsored challenge and training experience for yourself and or your group. The aim of the event is to build skills, confidence and experience of Velodrome cycling while raising money for our services helping homeless and vulnerable young people across the West Midlands.
Event Info:
Date: 15/12/2019
Time : 11:00-2pm (we would recommend getting there 45 mins-1 Hour before the start)
Venue: Geraint Thomas National Velodrome of Wales, Newport International Sports, NP19 4RB
Which Rider am I ?
beginner group – max = 12 riders (riders who have never ridden the track before)
novice group – max = 14 riders (riders who have ridden the track a few times)
intermediate group – max = 16 riders (riders who have ridden the track at least 10 times and are competent)
experienced group – max = 20 riders (riders who are accredited or have raced and have a high level of track experience)
Tickets are £25 + £2.24 processing fee
---
Do you want to sponsor this event?
We currently don't have an official sponsor for this event. If you can make a financial contribution towards this event or help by donating refreshments or other items needed for this event to run then please get in touch today! Email Events Manager Steve Rainbow via events@stbasils.org.uk or call 0121 772 9614. Thanks!