Challenge yourself to dance Zumba for as long as you can whilst dressed like a zombie. Welcome to the UK's first Halloween Zombathon!
The music starts at 6:00pm and goes on to 9:30pm but you can stop whenever you like. It's about challenging yourself and seeing how long you can Zumba for. You can wear a little bit of Halloween make-up or go the full horror show…it's up to you!

Your Zumba instructor will lead you through classic and original Zumba moves with some great Zumba tunes to help you keep moving and slower tunes for warm-downs and water.
The venue is the Eastside Project Gallery in the heart of Digbeth (the coolest part of Birmingham), so the perfect place to have a celebratory drink afterwards.
In keeping with the Halloween theme the registration fee is £6.66 and we want to encourage all participants to try and raise over £66.60 in additional sponsorship to help us prevent youth homelessness in this region.
Start your fundraising with JustGiving here
Zombathon photo certificates of achievement will be awarded to everyone who manages to Zumba for over 66 minutes and 6 seconds.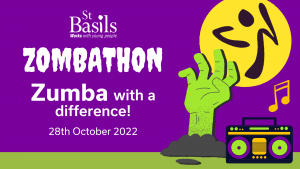 We would like to say a massive St Basils THANK YOU to Ruth and Gavin and all at Eastside Projects for supporting us with this event, and another massive StBs ❤ to Teresa, Karen and Michelle for leading the Zumba 'Zombathon' session.
Register now using the form below!