"Our book is called Cultivating Hope and we're self-publishing it as a not-for-profit passion project – with a limited print run and then as an e-book. I'm collaborating with my old mentor on the book, Neil Brinsdon, a talented photographer who has already had a brilliant book published in the lockdown called Behind the Mask and Through the Lens. I've written a set of around 101 poems to choose from, and Neil is using his talents to pair each poem with a photo. We are nearly finished on the project.
Through my work with Paragon Bank, we visited a St Basil's project, volunteering to help them refresh the décor and increase pride and confidence in the young people living there. I was so touched, humbled, and inspired by the young people I spoke to, that we've decided to donate the proceeds from the book to St Basil's. We hope to raise enough to buy a free-standing sensory light for the living room for the project we visited- it's so important to be comfortable in the place you are living. We plan to have a little launch event at an independent bookstore, to be confirmed.
The poems and photos are intended to soothe the mind and lift the soul. Although the ideas for the poems were born in lockdown, it's not about lockdowns at all- it's about connection and soul searching. We've felt a lot more need for connection since lockdown, so themes include resilience, nature and hopefulness. Essentially, it's about cultivating hope and maintaining positivity in an impossibly challenging time.
We are just selecting the final photos and poems ready for launch in Summer, and we're excited to see how our creativity can help to raise funds for a worthy cause." 
Cultivating Hope is a selection of poems written by Jo Caley, alongside visuals by photographer Neil Brinsdon. Proceeds from this book will be donated to St Basils. Keep an eye out for next months newsletter, where we will tell you exactly how you can purchase the e-book and support our work in ending youth homelessness, as well as supporting the creativity and positivity born throughout lockdown. You'll find a poem Jo wrote below, which was born after visiting our project, Binswood Lodge.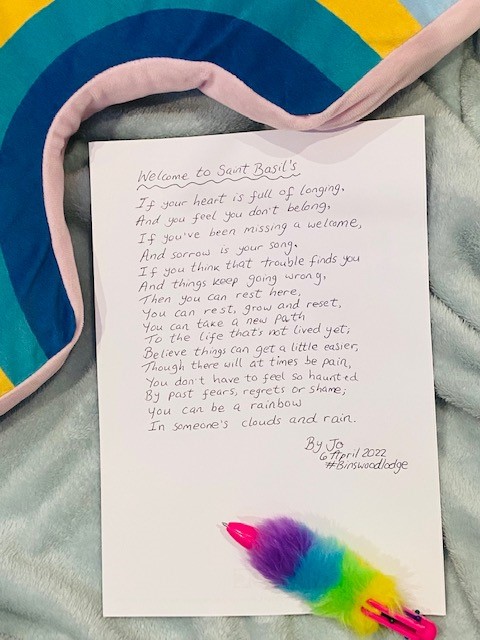 If you are interested in attending the launch party, buying a physical copy, or getting in touch with the author, please email us at fundraising@stbasils.org.uk