Young people living at our Kidderminster Foyer have been well supported by Bewdley Rotary club in recent months thanks to generous donations from a number of its members. When Lockdown was first announced Andrew Paige donated two laptops to the scheme so that two young residents could keep up with their college work, and also in response to an appeal from a St Basils support worker Terry Garbett donated an old bike to help another young resident who was struggling to return to a healthy lifestyle after his bike had been stolen.
Terry said: "It was my grandsons' bike and he had grown out of it. Spent yesterday tidying it up, gears oiled, tyres inflated, donned my Rotary uniform and rode to St Basils. Handed it over to a grateful James then walked back home."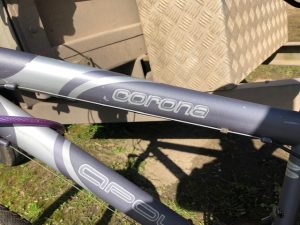 A bit bemused, Terry also mentioned the name of the brand of bike; "Corona"!
St Basils Business and Communities Executive Azim Salam said:
"We're so pleased Andrew and Terry from Bewdley Rotary have been able to help us out with these fantastic donations. This is ever so generous and will really benefit our young people at this difficult time. Once again thank you so much for your continued support of St Basils."