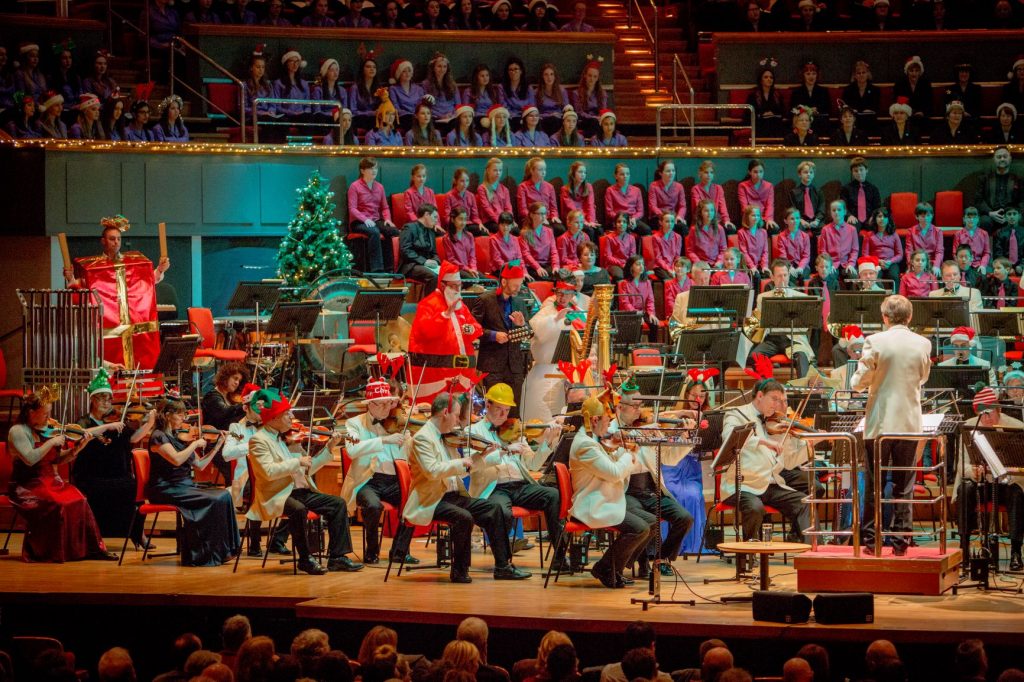 For over a decade the CBSO and St Basils' tradition of fundraising at the orchestra's annual festive carol concerts at Symphony Hall were a Great Birmingham Christmas Tradition which contributed to raising over £30,000 for St Basils and the CBSO (also a charity).
For the first time this year, the CBSO is not able to present its traditional Christmas programme and therefore the charities will join together in a different way – with three special videos created for the orchestra's festive Advent Calendar.
From 1-24 December, each day at 9am the CBSO is releasing a new festive video via their website and social media channels. The videos are created by members of the CBSO family (both orchestra musicians and choruses) and include a great mix of Christmas music, carols and readings from all over the world.
The three videos we have chosen to support St Basils are aimed at young people and families and will launch on Friday 18 December with the CBSO percussion section joining students from The Royal Birmingham Conservatoire which includes a surprise Christmas message from one of our most favourite guest artists. On Saturday 19 December viola-player Amy Thomas will read a children's Christmas story and on Sunday 20 December the CBSO Youth Chorus perform Bob Chilcott's 'The Midnight of your Birth'.
The videos will encourage donations across the three days which will be equally split between St Basils and the CBSO. A fourth video on Wednesday 23 December will be dedicated to raising funds for Help Musicians UK, at a time when so many musicians have seen their livelihoods wiped out as a result of the Covid pandemic.
St Basils' work focuses on young people aged 16-25, with the core aim of preventing youth homelessness. They provide advice and support to 5,000 vulnerable young people per year who are homeless or at risk of becoming homeless in Birmingham, Solihull, Sandwell, Coventry, Warwickshire and North Worcestershire.
Jo Patton, Principal 2nd Clarinet and Chair of the Player's Committee says:
'Everything has changed for us all since March this year but here at the CBSO we are determined to discover new ways we can connect and share our music with as many people as possible.  We are really excited to share our Advent Calendar with you- an amazing selection of some really beautiful and some really fun videos to share a little positive Christmas spirit and joy with the world. We are also really delighted to be able to continue our support of St Basil's and our fellow freelance musicians via Help Musicians UK at this really difficult time.'
Barrie Hodge, Head of Fundraising and Communications for St Basils, said:
'We are overjoyed to, once again, be working with the amazing CBSO. It's been a partnership that has been going on for many years and, even in a time of global crisis, that partnership has endured. These innovative performances, combined with raising money for both our causes is truly wonderful and we are honoured to be part of it. On behalf of the young people we support, thank you.'
On its 100th birthday, the City of Birmingham Symphony Orchestra (CBSO) launched an ambitious five-year, £12.5m fundraising campaign, designed to ensure the orchestra's recovery post-Covid and drive its longer-term renewal for a second century. The Sound of the Future aims to redefine the CBSO's future for the benefit of everyone across Birmingham and the West Midlands.
Support your CBSO: cbso.co.uk/donate
Donate to both charities
You can support both St Basils and CBSO via text-giving:
Text STBASILSCBSO10 to 70085 to donate £10
Text STBASILSCBSO20 to 70085 to donate £20
Texts cost the donation amount plus one standard rate message. UK networks only. All proceeds will be split equally between St Basils and CBSO