Ben Markall, who used to play for Stoke City and Burton Albion and now runs Premier Progress, teamed up with Five Spice, a restaurant just outside of Belbroughton.
Free meals are being offered to young people from 1pm to 4pm every Sunday with young people receiving as much as they need on that day.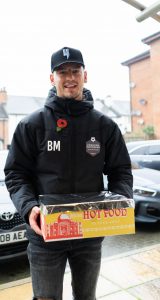 These donations to our young people have really come from the heart as Ben struggled with mental health and addiction when he was younger and has created his business to help young people who encounter similar issues. Premier Progress coaches, mentors and undertakes one-to-one sessions for people who are struggling mentally, using football as a way of tackling their problems.
Ben Markall from Premier Progress said:
"It was a very humbling experience for myself and for Five Spice who kindly donated meals and will continue to do so."

"I myself faced difficult times that people may not even be aware off, so for me I wanted to ensure that I helped people who might be struggling more than we know."
Commenting on behalf of our Bromsgrove team, team leader Jane Jefferson said:
"Our young people here at St Basils welcomed the curry delivery – it was a lovely treat which they would not normally be able to afford and knowing they were being thought about also lifted their mood at this unprecedented time."

"Since their first donation Ben and Five Spice have now told us they want to extend their very kind offer to our other Worcestershire supported accommodation schemes in Redditch and Kidderminster which is fabulous news! I know the young people will be so grateful!"
---
For more information on Premier Progress visit www.premierprogress.com or email info@premierprogress.com.