The Ironbridge to Sandbanks challenge took place on Wednesday 19th August. The trio of riders from Hayfield – the UK's Best Small Housebuilder – comprised Design Manager Steve Davies, Engineering Manager Oliver Pocock and Commercial Director Jon Jones. Making up the squad of six were their comrades Andy Allen, Reuben Bellamy and Roly Greaves.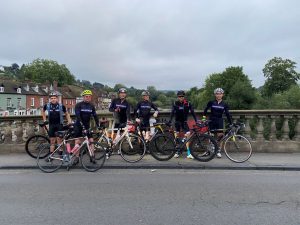 The fundraising target for the challenge was originally set at £5,000, but the funds raised from corporate and personal donations totalled in excess of £10,000, which will pay for 1,000 overnight bed spaces. Since the Covid-19 lockdown commenced in March, the charity has been faced with additional costs in excess of £120,000, while major fundraisers such as the London Marathon and the Great Birmingham Run have been postponed or cancelled altogether.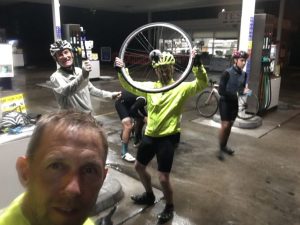 Steve Davies, Design Manager for Hayfield said: "We had all signed up to cycling challenges for 2020 – such as the Birmingham Velo – which have all been cancelled. Although long distance training and group riding has been very restricted since March, since the lockdown eased, we were fully committed to this major challenge to help raise funds for Hayfield's charity partner – St Basils. While lockdown has been a testing time for us all, we are very grateful to have our jobs, our houses and a happy homelife. The young people that St Basils helps on a daily basis face complex challenges that have only been heightened due to the affect Coronavirus has had on the economy and how we go about our everyday lives.
"None of us had ever tackled this sort of distance before, so it was a journey into the unknown! By pushing ourselves completely out of our comfort zone for what was a very long and testing day, we knew that we were doing it to honour the generosity of our family, friends and those we work with who dug deep and donated over £10,000."
The squad of six elected to take on the challenge without a support vehicle, instead plotting cycling shops and cafes along the route to use as pit stops. Setting off at 4:30am, the riders were pedalling for over 14 hours through harsh wet weather conditions. A series of mechanical eventualities meant the challenge took over 20 hours to complete!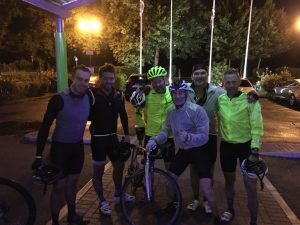 Barrie Hodge, Head of Fundraising and Communications for St Basils said: "We are hugely grateful to Hayfield for supporting us in this way, especially the six riders who endured a punishing day in the saddle.
"With so few sporting fundraisers taking place this year, it has been an incredibly tough time for all charities. The work we do with young people across the West Midlands to enable them to find and keep a home, develop their skills, increase opportunities – and ultimately prevent youth homelessness – is essential. We work with over 5,000 young people every single year and with some regular sources of funds totally drying up since lockdown commenced four months ago, we need to work harder than ever to be able to cover the costs of the vital support we provide night after night."
To place a donation, please visit: https://uk.virginmoneygiving.com/Team/Hayfield200forStBasils