Pallet Track announced back in February that they'd chosen St Basils as their 'Charity of the Year' and they got off to a flying start, taking on a challenge to 'keep moving' and walk or run as many miles as possible to raise funds for St Basils.
Together the Pallet Track team covered over 1000 miles, which was logged on Strava and raised £678.50 which Pallet Track very generously match funded, making a brilliant grand total of £1,357!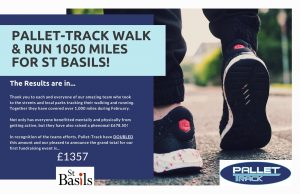 Then last month in April Pallet Track held their first 'Donation station' and did fantastically well, donating a car boot load of essentials to support our frontline services, helping young people in urgent need.
Business and Communities Executive Pauline Clarke said:
"It's really wonderful the dedication Pallet Track and their staff have already shown in doing all they can to help support vulnerable young people in need. We are very excited for the rest of this partnership year."