A huge variety of runs take place across the UK, all throughout the year. From 5Ks to marathons and virtual runs – you'll be sure to find one that suits you!
Sign up to an organised event, or create your own personalised running challenge. Whatever you decide, St Basils will be with you every step of the way.
This year on Sunday 7th May 2023, St Basils has spaces for the Great Birmingham Run, which features both a 10K and a Half Marathon on the same day. Find out more, click here.
Or, if you feel ready to take on the bucket list challenge of The London Marathon, either in 2023 or 2024, please email us at fundraising@stbasils.org.uk with your name, phone number, fundraising target, and a little bit about yourself, such as the company you work for, your interests or your motivations.
If there's a running event you would like to take part in on behalf of St Basils that isn't mentioned above, or if you have your own personal challenge, email us at fundraising@stbasils.org.uk and a member of our team will be in touch to support you.
Not into running? No problem! Check out St Basils' other events, here.
–
Check Out Our Top Tips For Charity Runners!
Choose Your Distance And Training Plan…
The first step is deciding the distance of your race. See below the most common distances, and check out 'Race Raves' Article.
5K (3.1 Miles), 10K (6.2 Miles), Half Marathon (13.1 Miles) and Half Marathon (26.2 Miles). 
Once you've decided on your distance, find the right plan that works for you and your lifestyle. Here at St Basils, we have two training plans for both the 10K & Half Marathon, but there are lots of Training Plans out there, so have a look around!
10K Training Plan  Half Marathon Training Plan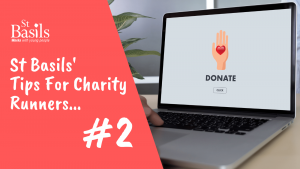 Set Up Your Fundraising Page!
As soon as you start training for your event, start fundraising to reach your goal. The sooner you begin, the more money you'll raise and the less pressure you'll feel. You'll also have more time to focus on your training. We use a fundraising platform called Enthuse, which will automatically be set up for you upon signing up to a challenge with us. It's easy- just follow the instructions and share your fundraising link, which will be provided to you.
Be sure to add as much detail as possible to your fundraising page, including a little about you, your motivations to fundraise for St Basils, and a picture.
Don't want to use Enthuse? You can also find St Basils on JustGiving! Head to JustGiving.com to set up your page and if you have any questions, please do get in touch. Alternatively, check out the video links below:
Fundraising on JustGiving – how it works – YouTube
How to build the perfect fundraising page – YouTube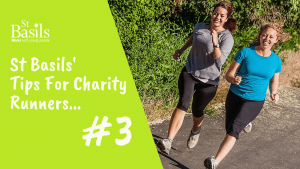 Partner Up!
The training process can seem daunting, but you don't have to go it alone! Ask a friend or a family member to join you on your journey, they may even want to take part in the event! Make sure to check out your local running clubs too…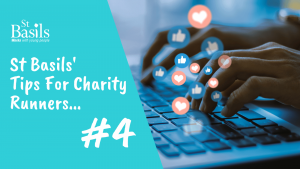 Ask For Donations Through Social Media!
One of the most effective fundraising strategies is social media. Posting donation requests on social media channels like Facebook, Instagram, Twitter, and even LinkedIn makes the posts easily shared and your donation circle can multiply exponentially.
In a paragraph, tell your social circle what you're doing, why the cause matters, and specifically what they can do to help. In addition to asking for money, you can ask followers to share the post with others who might donate.
We also highly recommend asking directly for donations. You'll have more of an impact when sending out personalised messages to your friends and family and you can be more specific in your request.
Tag St Basils in all your posts, so we can share it too!
Twitter I Instagram I Facebook I LinkedIn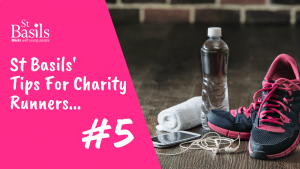 Running Equipment…
Make sure you have a pair of suitable and comfortable trainers and find time to test them out prior to the event to avoid blisters!
Wear comfortable running attire for the weather. If you choose to join Team St Basils, you will receive a special top to wear with pride.
Don't forget your playlist, too! Put together songs to listen to throughout the event to keep you motivated!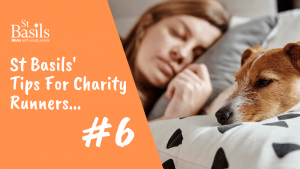 Don't Push Yourself Too Hard…
Listen to your body at all times. If you feel tired and sore, consider training at a lighter intensity for that day. Rest allows your body to heal and recover!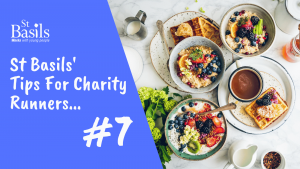 Fill Up On Fuel!
Your body needs lots of fuel in order to train and improve. Try a diet rich in protein supported by high quality carbohydrates!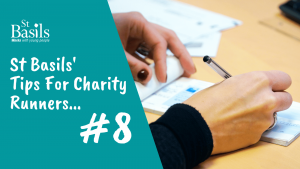 Ask For Matched Donations…
Companies are a great source of funds. Many businesses and offices have matching programs. So when you donate, they match the amount and you get twice as much money for your cause. Ask your company to match what you raise and when people donate, find out if their company has a matching gift program too! It's a great way to increase funds quickly.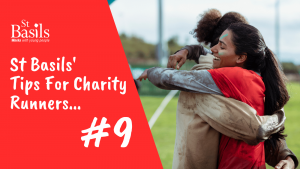 Enjoy The Journey!
Try and enjoy every step of your journey, from training right through to the race! It might get hard at times, but remember who you're doing this for and why, and get ready to receive so much support from the St Basils team and the whole crowd on the day!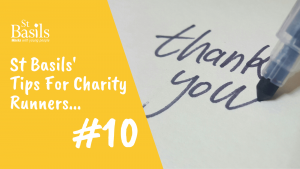 Update Your Donors & Collect Those Final Donations!
Once you've completed your race, make sure you let your donors know how you got on (include a picture of your medal, of course!) and send out a thank you note. You'll also find most donations come in after the event, so if you can, continue to share your fundraising page after the event.
Submit Your Own Running And/Or Fundraising Tip
Fill out the form below to submit your own tip, and it may get added to the list above!
—
Are you a business, and interested in sponsoring one of our running events? Contact Pauline Clarke for a friendly chat: Pauline.Clarke@stbasils.org.uk