Introducing our mascot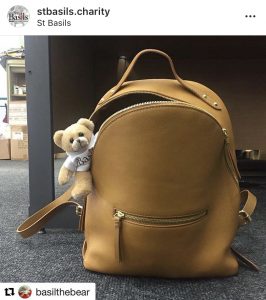 "Hi, I'm Basil Bear.  I'm St Basils fundraising mascot and I just wanted to say hello!  

You might know me from on social media, or perhaps it's one of my cousins you've spotted.  
Hope to see you at a St Basils event soon and don't forget to follow me for some beary entertaining posts from me and my ever growing family.
 Lots of love.
Basil xx"
If you'd like your very own Basil Bear please donate £5 to us and then email fundraising@stbasils.org.uk with the address of where you would like him posted to. 
It costs £5 a night to house a young person at St Basils so this will pay for one night.
Basil has his own Twitter and Instagram account. Please post your Basil pics to Facebook, Instagram or Twitter and tag:
Instagram: basilthebear
Twitter: basilsadventure
Facebook: @basilthebear
Thank you!
---
Basil's Teddy Bears picnic
Basil loves picnics so be sure to take him with you when you go this summer. Please take a photo and tag us on social media. We've also launched a Children's activity pack you can download and print-off!