Setting Up Your JustGiving Fundraising Page!

JustGiving allows you to set up a fundraising page to collect sponsorship from friends and family, and is fast and easy to set up and use…
Follow the steps below to help create the best fundraising page for you and your event!
---
1. Click the below button, and select 'Fundraise For Us'

IMPORTANT: If you are taking part and fundraising for a St Basils event, select the event below for a shortcut. Scroll to the bottom of each page, and click fundraising.
---
2. Login or Create a JustGiving Account
You can use your account to add/edit your fundraising page.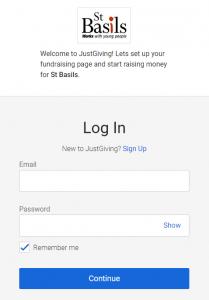 ---
3. Select your activity (there's lots to choose from!)
Please Note: If you are taking part in a St Basils event, you may have trouble finding the event due to a high-volume of events. If this is the case, please use the links above to select the event your taking part in for a shortcut.
If you have still have trouble finding the event to link to your fundraising profile, please email the team on: fundraising@stbasils.org.uk for support.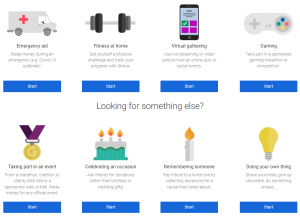 ---
4. Personalise your page!
Choose a URL that is easy to remember and easy to search. We recommend your name + the event.
For example 'Basils10K'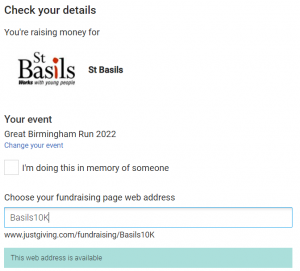 ---
5. Make your page stand out!
Now that your page has been set up, lets grab people's attention…
Follow the below steps to make your page stand out.
Include a summary
Grab people's attention by adding your reasons for taking part in the event to the top of your page. It's the first thing your visitors will read, and reports show that you could raise an extra 10% in donations.
Share why you're taking part
Regardless of your reason for fundraising for St Basils, share your story on your page! People are more likely to make a donation if they know why the cause is important to you.
Upload a photo
Upload a photo of yourself as your profile picture and while you prepare for your fundraiser, keep your page updated with new photos at least once a week to show your progress.
Set a fundraising goal
Share your target so people can help you reach your goal. If you reach your target, keep pushing for any extra donations!
Include your offline total 
Don't forget to add your offline fundraising donations to your total. It will help keep everyone updated on how well your fundraising journey is going. Email: fundraising@stbasils.org.uk to receive your personalised sponsorship form!
Keep everyone updated
Don't forget to post regular updates about your fundraising. It encourages people to re-visit your page, and could even get them to share your cause with their friends (or donate again!)
Share your page
Once you're happy with your JustGiving page, share it by email and on your social media channels. Remember to share it again when you update it. We recommend sending it directly to friends and family too, perhaps on WhatsApp or Facebook Messenger.
Make your fundraising go further with Gift Aid
Ask your sponsors to Gift Aid their donation if they are UK tax payers. This means that we receive an extra 25p for every £1 donated and it doesn't cost you or them anything extra.
For more tips on creating a great JustGiving page for, visit their blog page: Top tips to help fundraisers create the perfect page | JustGiving Blog
If you have any questions or would like some additional support, please get in touch via: fundraising@stbasils.org.uk