Traditionally banks require you to show proof of address and have photo ID to open a bank account. This has been making things difficult for young homeless people who may have been evicted at short notice, have fled domestic violence or have been sleeping rough.
HSBC Birmingham New Street branch has therefore launched a service where homeless people can open a bank account when accompanied by their support worker and using St Basils address.
Helping St Basils young people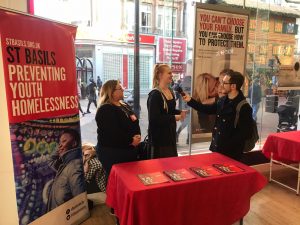 Seven young people being supported by St Basils have already been helped by this scheme. One of them was interviewed by Free Radio Birmingham at the branch's launch event.
One young person, Trinity, being supported by staff in Worcestershire said; "I'd tried to open a bank account at about 5 different banks and they were all saying 'no sorry we can't do it', which made me feel really frustrated all the time. I felt ecstatic when I was finally able to open an account with HSBC and I now feel like everything is coming together!"
Quotes
St Basils Business and Communities Executive Sian Dhillon said:
"We're so pleased HSBC have found a way to offer this to our young people. Having a bank account is a basic but obvious necessity in today's society. It will help our young people access benefits and apply for jobs, and it also gives them back their independence. By launching this scheme HSBC are giving homeless people nationwide an equal opportunity."
Head of Financial Inclusion and Vulnerability at HSBC, Maxine Pritchard, said:
"We're committed to offering support to those who would otherwise be excluded from banking. No one in today's society should be without a bank account".
---
As part of our partnership with HSBC Birmingham as their chosen charity, they've also been taking part in our fundraising events and dropping off gifts and donations for our young people.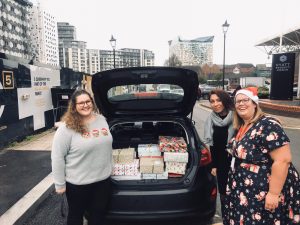 If your business would like to partner with St Basils as your chosen charity for the year please see our Business Partnerships page.