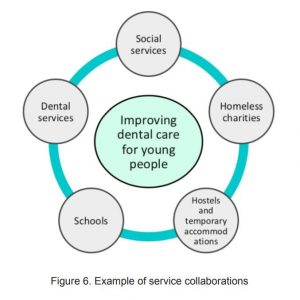 St Basils Youth Voice is made up of young people aged 16-25 across England who have experienced homelessness and use their own lived experiences to campaign for change.
St Basils Youth Voice young people recognise good oral health is important for many reasons including general health, wellbeing, confidence, relationships and job prospects. However, Youth Voice young people also expressed that there are significant barriers to be overcome for homeless young people to access dental services and have the tools and means to take care of their dental health on a day-to-day basis.
The Department of Primary Care Health Sciences at the University of Oxford have been conducting research into dental care and homelessness but there was no research in the UK that focuses on dental needs of specifically young people who experience homelessness.
The research studies they do have show that Individuals experiencing homelessness in the UK suffer from much higher levels of dental problems but are much more likely to access emergency rather than general or preventative dental care, due to various barriers. There are concerns that this pattern of access will ultimately put more strain on the NHS.
Both St Basils Youth Voice and the researchers at the University of Oxford are very keen to improve this situation. Therefore at the start of 2021 a partnership was formed between University of Oxford's Department of Primary Care Health Sciences and St Basils charity, and in February–March 2021 a small team of St Basils Youth Voice peer researchers carried out interviews with a diverse range of 21 young people from across England who have experienced homelessness, asking about their experiences, preferences and suggestions for improving dental care.
This allowed the partners to gain a unique insight into potential solutions that would be most beneficial for this population and through this collaboration developed a report with some joint recommendations, in the following areas: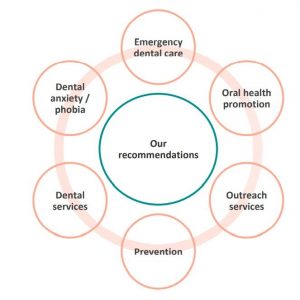 Emergency dental care
Oral health promotion
Outreach services
Prevention
Dental services
Dental anxiety/ phobia
These recommendations can be read in more detail in the report which also includes implications for policy makers to consider, such as that that young people themselves should always be consulted where possible.
Download the report: