Zain says: "I first learned about St. Basils when I was at 14 from a teacher and was fascinated to hear he was going to "sleep rough" for a youth homelessness prevention charity. I remember being shocked that such a need even existed but was also curious to learn more, so I signed up to experience it for myself. 23 Sleepouts later, it's now become an annual tradition and, over the years, my sponsors have helped me raise close to £25,000 to help support the amazing work done by St. Basils.
During the Sleepouts, I've had the privilege to speak to staff, volunteers and the young people that St. Basils has supported. I've heard their heart-breaking stories and quickly learned that one night of sleeping rough for charity doesn't come close to the physical strain and psychological terror they experienced when they had no other choice. So, after the first few years, I resolved to make the night as uncomfortable as possible, especially because I know I'll have a safe, warm bed the next day. I don't use any sleeping bags, blankets, umbrellas or anything other than the clothes on my back and what the event organisers give me – a few cardboard boxes and a plastic bag. I think it also helps me justify asking some of my regular sponsors to keep donating year after year!
I've had many opportunities to practice elaborate shelter designs over the years but I've found, through very cold, wet trial and error, that a simple triangle design is the best shape for a solo sleeper. There's a long-running joke amongst my friends that I'm a human "Toblerone" during my Sleepout. It's not very glamourous and it's a bit claustrophobic but I think it helps my sponsors feel that extra bit sorry for me! I also came up with an idea to make cardboard signs suggested by my sponsors with jokes and cheeky comments in exchange for donations. Here's one of my favourites from 2021."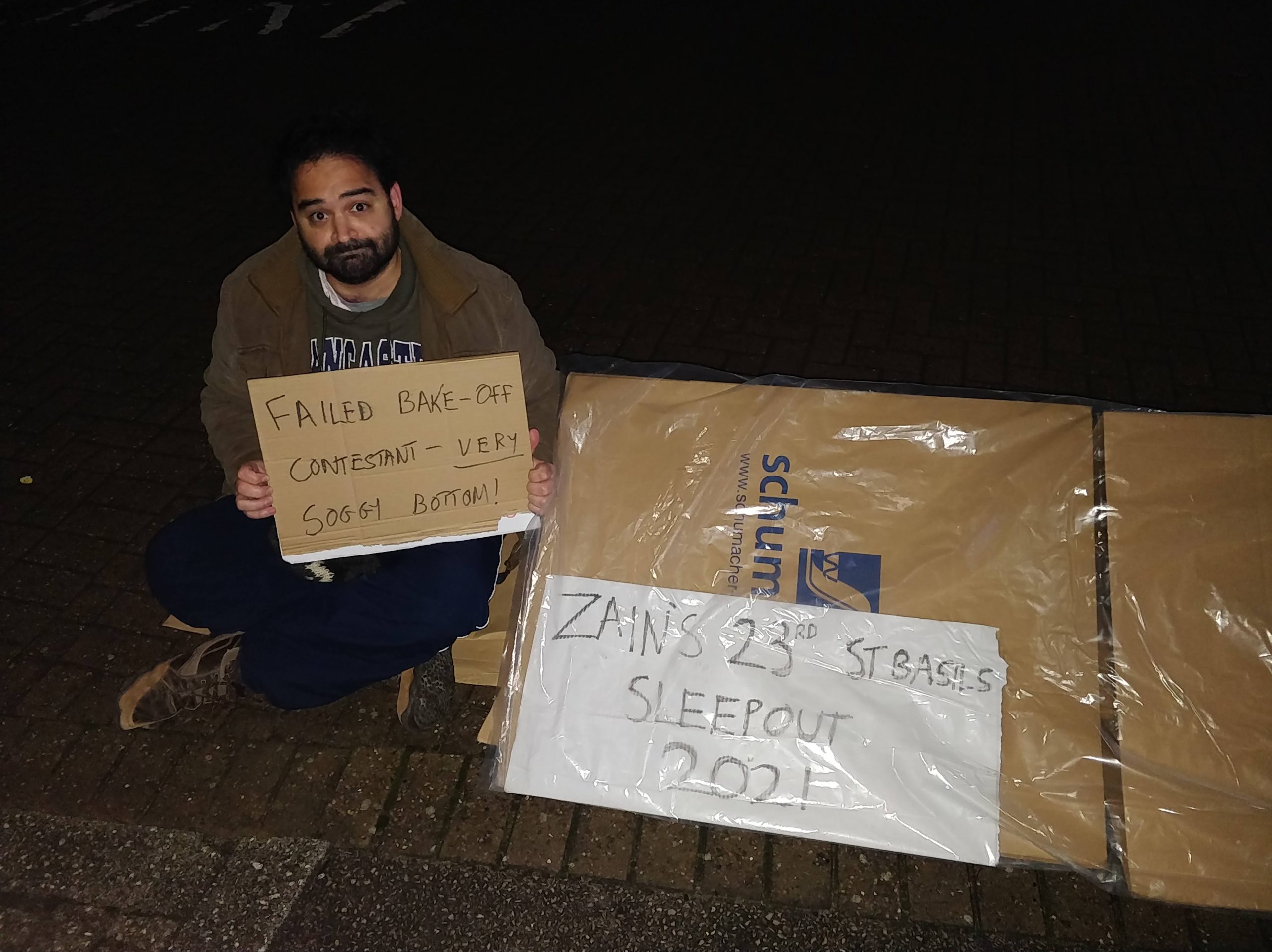 The impact Zain has made in the West Midlands is outstanding and we want to thank him on behalf of everyone at St Basils and beyond for his amazing efforts!
We see a lot of amazing support first-hand at St Basils, but we also recognise that a lot of support is done behind the scenes. If you or anyone you know would like to be considered for our Supporter of the Month segment, please email us with your story at fundraising@stbasils.org.uk