As part of our 50th anniversary, we have been speaking to St Basils Alumni- young people who stayed with us in the past.
We spoke to Cat- a former young person about her past experiences and most importantly, where she is now.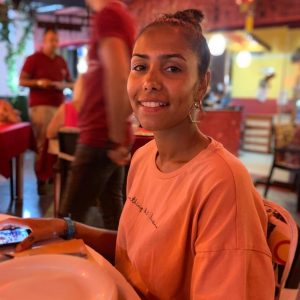 "I stayed with St Basils in 2011-2012 at 18 years old.
I had a very complex childhood, I was adopted at 2 years old, so had been in the care system. My adoptive parents both had their own struggles.
At 13-14 years old, I left. Family members and parents of friends would have me stay either in spare rooms or settees, but nothing was really home and I know me being in other people's homes caused a strain.
It does not matter how well behaved, polite , clean and tidy you are; eventually people do like their own space. I heard about St Basils and it was the right place for me at that time in my life when I was a teenager turning into an adult.
My time at St Basils had its ups and downs, and when I got to St Basils I was in a personal battle with myself. I think looking back that's why I chose St Basils, because they offered not just accommodation but support.
I was nervous at first, but I met other residents and we became friends. We would put money together to go shopping and we would cook meals that don't require a lot of skill but would go around a group of us, such as chilli con carne and Spaghetti Bolognese. We became like a little family, playing pool together, watching films and TV.
I am still long-time friends with a resident I met at St Basils, and we see each other as family, we check on each other and support each other.
When my time came to move out into independent living St Basils supported me to get a grant to pay for my first bed.
The staff at St Basils treated you with care and humility, which is how we all want to be treated, especially those of us coming from difficult backgrounds.
The staff would try their best to make the home feel safe and homely. They would provide learning resources to help you find a job. Most of all they would support and listen to you. In particular, Jade really helped and supported me. I know that I wasn't an easy young adult to deal with at times but she really helped me get back on track. Jade supported me in getting counselling and she would listen to me without judging. I saw her support so many young adults, helping us on our individual journeys.
Honestly I believe St Basils saved my life without even knowing. I was on such a self-destructive path because of past trauma: I didn't care about me or my life. I wanted to drink, smoke and fall off the rails.
I was so lucky to have got to St Basils when I did for the staff to care and support how they did. I had two very different paths ahead of me and I was guided through St Basils onto the right one. One where I can be proud of who I've become.
I am now 30 years old, I am a homeowner, have been married for 2 years and I work as an Operations Manager as part of a well-established DIY Business. My biggest achievement is a constant one of always supporting and helping others where I can. You never know the difference a little help/support can give someone.
As part of my role, I am involved in community programs with my company and have recently provided materials and support to St Basils to give back where I can, because I truly believe the work they do is important.
I'm thankful for the support I received, and I am happy that St Basils still provides this support now. I am enjoying giving back to the St Basils community, as I understand what it's like for residents and anything myself and the company I work for can do to provide that support to make the residents feel more homely, we will continue to do.
I would also like to say that for any young adult who is a resident at St Basils, do not be so hard on yourself: use the support of the staff and move forward, as this is just a stepping stone."
A huge thank you to Cat for telling her story.