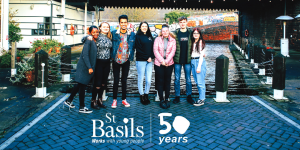 "I stayed at St Basils between the ages of 16-19 in the late 2000s. My time there was difficult. Whilst the environment is supportive from staff; the reality of being 16, living in a country which was foreign to me, and being thousands of miles away from my family at such a young age – I cannot express how impactful that is. The reality is that being alone in the world at such a young age, changed my life. I am thankful that St Basils was there to help me navigate, and quite frankly protect me, as I was indeed a child.
Outside of providing me safe, supportive and age-appropriate accommodation for over 2 years, St Basils helped me access public funds. As a British child who had been outside the country for many years, I was deemed to not be entitled to public support. Fortunately, staff members were very knowledgeable about the law. St Basils staff literally had to go to the Neighbourhood Office and demand they perform a Child Assessment (which they had previously refused to do); as well as fulfil their legal duty to me in other ways.
St. Basils provides policymakers and other stakeholders an invaluable insight into an extremely under-represented cross-section of the population.
The staff at St Basils were by and large great people. I formed deep relationships with many (Sue, Donna, Gemma to name a few). Support work by nature is not the kind of work someone does just for a pay cheque. In 99% of my interactions with staff, this was apparent. These people were not my family, but I genuinely felt like they were at times. I really can't express in words how impactful some of those relationships were on my life.
I am in a fantastic position now. I came back to the UK 16 years ago with the goal of obtaining an undergraduate degree and postgraduate degree and pursuing a legal career. That is exactly what I have done! St Basils foregrounded that my circumstances did not define me– this is something I have carried with me. St Basils' ethos is that – we were young people experiencing homelessness, not homeless young people. We still have the same dreams and aspirations as other young people.
"Imperatively, our opportunities or the expectation we have of ourselves, and society has for us should not be diminished based on our lack of a fixed address."
St Basils doesn't just change lives, it saves lives.
Because of the support of St Basils, I achieved some of the highest grades in the country for my A Levels, and went on to study law at one of the best universities in the country and in the world. St. Basils ensures that relatively short but nevertheless important periods of  young people's lives do not derail a persons' entire future. They instil values in a cross-section of people that society often deems worthless."
We are so grateful to this person for sharing their story.  If you have memories of living with St Basils throughout the last 50 years we would love to hear from you.  Just get in touch at info@stbasils.org.uk
To protect this young person's identity, any pictures and names are anonymised.