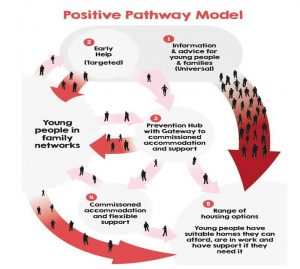 The 'Positive pathway' is a nationwide framework that we have put together, to help Local Authorities and their partners to develop a more collaborative and integrated approach that will lead to better outcomes for young people.
It aims to give a clear framework to better prevent young people aged 16 – 25 from becoming homeless in the first place. It also sets out the sort of services and support needed to help young people who do become homeless to build a more positive future.
It was first developed in 2012, refreshed in 2015.  Supplemented in 2015 by the Care Leaver Accommodation and Support Pathway developed in partnership with Barnardos and most recently the Youth Justice Accommodation Pathway in 2017.
We are now working to roll out the pathway nationwide.
Related Documents:
POSITIVE PATHWAYS DIAGRAM AND SUMMARY
The Youth Justice Accommodation Pathway
Preventing Homelessness and Supporting Better Outcomes for Young People involved in the Criminal Justice System in England.
The Youth Justice Accommodation Pathway (YJAP) is a practical tool that local authorities, criminal justice agencies and other partners can use to plan accommodation and support services for young people aged 16 – 25 who have been involved with the criminal justice system. It has been developed in collaboration with agencies working with and for young people with an offending history, and is informed by the voices of young people who have experienced homelessness.
YOUTH JUSTICE ACCOMMODATION PATHWAY INFORMATION PACK
THE POSITIVE PATHWAY MODEL: AN INDEPENDENT RAPID EVALUATION OF ITS IMPACT:
INDEPENDENT RAPID EVALUATION INDEPENDENT RAPID EVALUATION SUMMARY
COMPREHENSIVE HOUSING OFFER:
POSITIVE PATHWAY BIRMINGHAM -AFFORDABILITY MODELLING
For more information on the Comprehensive Housing Offer please see BSHP's website