Join Team St Basils at the Barcelona Marathon 2024 
We are thrilled to offer you the chance to be a part of the Barcelona Marathon! Prepare yourself for an electrifying event happening on Sunday, 10th March 2024 
Why Choose Barcelona Marathon 2024?
Since its inception in 1978, the Barcelona Marathon has grown to become one of Europe's most beloved marathons. What makes it stand out? It's the unbeatable atmosphere and unwavering local support that runners experience throughout the race. Don't just take our word for it; explore the glowing reviews by past participants on Race Check!
Discover Barcelona's Heart
Imagine running through the vibrant streets of Barcelona, passing by iconic landmarks like the awe-inspiring Sagrada Familia, the legendary Camp Nou, and the majestic Arc de Triomf. It's a breath-taking journey that allows you to immerse yourself in the rich culture and beauty of this incredible city. For a sneak peek, take a look at the 2023 course map below.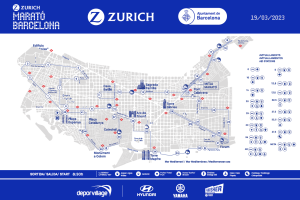 Your Marathon Journey
By joining Team St Basils, you're not just running a marathon; you're making a meaningful impact. As a member, you'll enjoy exclusive perks:
A St Basils running vest to wear proudly.
Personalised 1-1 support and invaluable fundraising advice.
All the necessary tools and resources to ensure your fundraising success.
Team St Basils
To be a part of Team St Basils at the 2024 Barcelona Marathon, we ask for a registration fee of £50 and have set a minimum fundraising target of £500. Your participation isn't just a personal achievement; it's a contribution to our fight against Youth Homelessness.
We encourage you to turn the event into a fantastic weekend getaway, with bib numbers needing to be collected before the event at the Barcelona Marathon Expo.
Ready to take the leap? Lace up your running shoes and join us for the Barcelona Marathon 2024. It's an adventure you can't afford to miss. Sign up today, and together, let's make a difference!