Business and Communities Executive Sian Dhillon who has managed the relationship said: "We've had financial donations from Gallaghers, they've given us rugby tickets as raffle prizes, they've donated huge gold standard starter packs every Christmas for our young people and they've attended or even volunteered at our events. They've just been brilliant, really got all their staff team involved and done multiple things for us. We're sorry this partnership is coming to an end as we've had absolutely invaluable support from them."
As well as helping the Fundraising team, Gallaghers have recently joined forces with our Employability team who run the #YouCan programme here at St Basils. #YouCan is aimed at facilitating intensive support to help young people kick start the journey back to employment. The service focuses on tackling the barriers young people face in realising their potential and building on their strengths to springboard back towards the Job Market.
Staff from Gallagher's helped by hosting some CV and team building workshops at one of our emergency accommodation schemes, Milner Court. Both sessions involved one-to-one mentoring as well.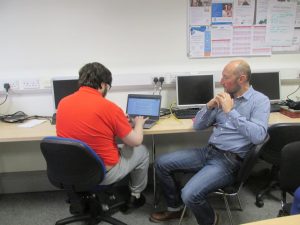 Different staff members from Gallaghers took part in the two different sessions, meaning the same group of young people got to talk to a variety of staff from Gallaghers and hear about their own career journeys and how they got into Gallaghers. Some of the staff did not need to have a background in insurance for their roles, which Employability Coach Jade Hodson commented was important for the young people to hear.
The CV workshop led by Gallaghers staff included a powerpoint presentation on the importance of CVs and shared the difficulties of finding work sometimes and how to manage this. The session also included CV mentoring where staff went through young people's CVs one-to-one and gave them advice on what to include and how to present it better. They also went through what the company does and the roles they recruit for and talked about work experience at Gallaghers.
The team building session led by two other staff was all about problem solving and working as a team to find and execute solutions. Each staff member worked one-to-one which each young person during the session. Group work included an ice breaker and time limited tasks including building the tallest structure possible out of nothing but marshmellows and spaghetti, and building a bridge between two tables using sellotape and straws strong enough to support objects being placed on top. They also facilitated a discussion around active listening/ non-listening and the importance of team structure and being a teamplayer.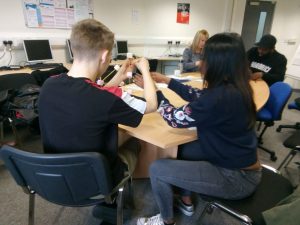 Employability coach Vicki Roberts said: "The workshops provided by Gallaghers staff were excellent. We had some really positive feedback from the young people who took part, saying they really enjoyed it, that the staff from Gallaghers were down to earth, they were friendly and the session was fun."
One young man, Connor, said of the CV workshop he attended: "It really helped me with my CV. I chatted to one of the staff about what I've done at college. I'd actually been the leader on a group project but I never thought about putting it on my CV. It's on there now."
Executive Director Tim Chance who volunteered at the CV skills workshop said: "The day was both a challenging and worthwhile day.  Challenging in the context of having to help prepare a CV for the modern day workplace something I have not done for years, worthwhile in the fact that the young people were friendly, engaging and interested in what we had to say. The aim of trying to help them gave me a huge feeling of responsibility…. These were youngsters with real challenges who wanted to make change in their lives and do something meaningful. Pretty inspiring all in all."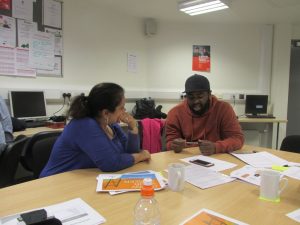 Executive Assistant Karen Bode said; "It was a very rewarding experience however, these things are quite poignant.  These are teenage kids without a family or estranged from their family and the biggest thing they need is a cuddle and someone to tell them that they matter.  I don't mind confessing that, away from the mentoring experience, I did shed a tear."