Q: What is the aim of #YouCan?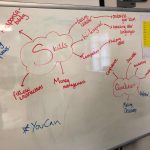 Vicki: "#YouCan is aimed at preparing young people who are Not in Education, Employment or Training, to be able to access Education, Employment and Training. The aim is to take them from NEET to EET, but it is not a 'quick fix'! It's about working on the foundation, but at their own pace, as once that's solid they'll be able to eventually achieve everything else."
Andrew: "#YouCan is all about helping young people grow in themselves with employability as the eventual goal"
Q: What have been the biggest challenges so far?
Vicki: "A lot of the young people at St Basils are understandably down on their confidence and self-esteem, so a lot of what we do is aimed at building that back up.
"I had one young woman who had to leave the house to attend an afternoon workshop and just doing that was a big achievement for her. So for some of these young people the barriers are huge, and that's why we bought MST4Life into #YouCan and do some MST sessions now."
MST is delivered in partnership with University of Birmingham's Sports Psychology department, and mirrors the mental strength and resilience training that top athletes go through. It also includes a residential trip to Lake Coniston in the Lake District to take young people completely out of their comfort zones so they can test what they've learnt.
Q: What's the best thing about #YouCan?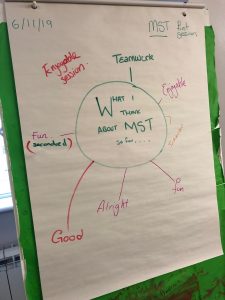 'Young people enjoy it'
Vicki: "For some of the young people #YouCan is the first time they've been in a learning environment and actually enjoyed it!"
"#YouCan is intentionally designed to be very interactive and fun and hopefully nothing like their memories of school, because for a lot of these young people school was a difficult time for them.
'All are supported'
Vicki: "We know now that some of the young people have underlying learning difficulties that haven't been picked up before, and now the problem is the funding or pathways for specialist help are just not there as they are only available to school age children, but we have a young person led approach here, and we will work with each young person individually if that's what it takes to help them progress."
"We'll do the same for anyone who is nervous of group situations as well. #YouCan staff will work with them on an individual basis. If that is their need staff can accommodate that. We are fully inclusive in terms of needs. All are supported".
'#YouCan sets young people up for life'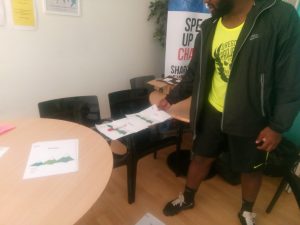 Vicki: "#YouCan is also specifically designed to build confidence. With #YouCan there's no area for a young person not to succeed"
Andrew: "I also came across one young woman in Rugby for whom #YouCan is the first programme or course or anything she has ever completed! So she is full of praise for it. She said she was buzzing after #YouCan, and can't wait to do more courses now."
Andrew added: "We've seen #YouCan give young people a greater sense of direction, so that they realise what they might want to do in life. Once they've got that goal, they've got something to work towards"
'Developing social skills and building lasting relationships'
Andrew: "But it's also about helping young people develop skills for life. Skills around attitude, behaviour and building relationships, all social skills that will help them at work but also in life generally".
"It's also about getting young people out of their rooms. Over the 5 weeks #YouCan brings people together and some young people have made significant friendships as a result which have lasted. Young people who used to just sit on their own in their rooms isolated, now get together in the evenings".
Q: How do you keep young people's interest?
Vicki: "There's a lot of group work and practical tasks and we utilise other environments where we can. We did a scavenger hunt around Birmingham Library the other day".
"And we also include a visit to a local University to listen to a lecture in a subject of their choice. The trip also includes lunch and a tour of the

University. The aim is to spark interest and explain what's available so that young people don't automatically rule themselves out of going down that path."
Plus there are additional specialist workshops around CVs and Interview Skills that are provided by external agencies including some companies. Boden Resource, Secure Trust Bank and Gallaghers Insurance are all recent examples.
Q. What happens at the end of the 5 weeks?
Vicki: "We hold a celebration event with each group of young people. We hand out their certificates and we have a celebratory lunch".
"Then we handover back to their progression coaches based at each accommodation scheme to continue to work with them on the goals they have identified."
Andrew: "But a lot of the young people are genuinely sad when it's over and ask about what other courses they can do."
Successes
The successes of #YouCan are many and this is just the ones Andrew and Vicki have witnessed within the last quarter.
One young man, who gave great feedback has since gone on to do some volunteering in Rugby.
One young woman, is now volunteering at St Basils Youth Hub
One Young Person has moved to our Live and Work scheme and has started an NHS Apprenticeship at Sandwell General Hospital
Another young person has started an NHS Apprenticeship at City Hospital.
Several other young people have applied for the NHS Apprenticeship programme and are waiting to hear back.
Feedback from young people
Leon said:
"I have enjoyed meeting new people and hearing different viewpoints, developing my own goals and plans for the future and having the support and company of my peers and coaches"
"Personally I have found the course really enjoyable and helpful, I think the skills I have learned are truly valuable and don't think that the course needs to be improved"
"I now realise that I can achieve the things I want to in life and have gained some great emotional coping strategies and valuable advice from my coaches."
"From doing this course I have gained a sense of achievement, motivation, enthusiasm and confidence".
"I am now going on to do some volunteering in the community and eventually plan to get onto a further education teacher training course, so that I can do similar work to my coaches and make a difference to others."
Trinity said:
"I've loved #YouCan and MST! It got through a lot of subjects and I've enjoyed meeting new people that have similar struggles to me. I now feel I have great friends!"
"#YouCan has also made me see that not everything is a bad thing, where there is a door closed, a window gets opened. I plan to continue to keep positive"
Louise said:
"The thing I enjoyed about the course was meeting new people and being able to express myself and doing lots of great activities and looking at myself and how others see me".
"I have learnt who I can and will become, and it's made me realise what I want in life. It's also helped further my job applications".
"I also now have new friends and ideas of good places to work or volunteer"
---
Author: E. Jones, Digital Media Executive