Did you know we house over 500 young people every single night across our 35 supported accommodation schemes in Birmingham, Bromsgrove, Solihull, Redditch, Bromsgrove, Kidderminster, Walsall, Sandwell and now Leamington Spa?
Everyday, St Basils is running at a deficit and sadly we're short of £5 per day per young person staying in one of our projects.
This Christmas we're looking to our supporters for help.
We know Christmas can be a challenging time of year financially and that's why a lot of people do 'Secret Santa' with a £5 limit. But trying to find a meaningful present for £5 can be a challenge in itself.
What would be more meaningful is joining a wider campaign like this. We believe it is possible to end youth homelessness if every person in that community does what they can.
Please donate £5 today to help our cause this Christmas.
---
How can you support St Basils this Christmas?
The Big Sleepout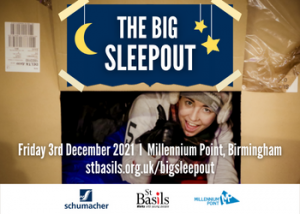 Date: Friday 3rd December  Location: Millennium Point, Birmingham
Challenge yourself to sleepout outside for a night and help raise money so that vulnerable young people don't have to do it for real.
---
Your Cards In The Post…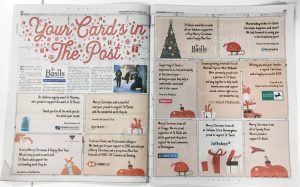 Instead of sending out traditional Christmas cards through the post, donate to St Basils and The Birmingham Post will publish your Christmas card for all your clients to see.
Coronavirus continues to take hold of life across our country, the impact on our health and financial wellbeing are overwhelming. As people lose loved ones and their financial security, vulnerable young people need our help more than ever.
Homelessness or the threat of it should not be part of growing up. Unfortunately for too many young people this is now a harsh reality.
Charities across the country like St Basils are faced with increasingly tough choices.  As the situation evolves, we are having to make decisions which ultimately impact our ability to fundraise.  Events have been cancelled or delayed and people's ability to donate money is hindered because they are having to make difficult choices themselves
It's been a tough time for fundraising for our vital work, so we are delighted that, for the fourth year running The Birmingham Post are supporting us with our Christmas card appeal for Businesses by donating a double page spread in their newspaper. You'll also receive an e-card designed by One Black Bear to send out to your contacts and clients by email.
If you would like to take part in this, please click below and register your interest before December 10th 2021.
---
Christmas Jumper Day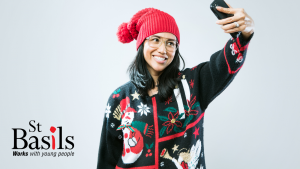 Christmas Jumper Day is back and this year it takes place on Friday 10th December, creating much-needed Christmas cheer and a chance to raise money for St Basils!
Buy, borrow, or get creative and decorate your own Christmas jumper! Then wear it with pride in your office, school or college.
Just a £5 donation could help accommodate and support a homeless young person, so please do consider choosing St Basils when fundraising this Christmas.
Click below to your make your donation or if you have any questions, please get in touch via: fundraising@stbasils.org.uk
Fundraising Tip: Don't forget to tag St Basils in all your socials too to help raise awareness!
---
Christmas Clear Out!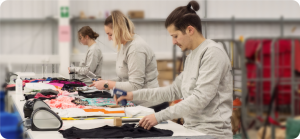 Christmas is coming and it might be time to clear some space in your wardrobe ready for the New Year ahead!
Did you know 73% of used clothes are sent to landfill or are incinerated?
Thrift+ is putting an end to fashion waste by making it easier to re-sell than to discard…
Order a Thrift+ bag, fill it up with clothes, shoes, accessories and send it back for free. Once Thrift+ has received your bag, the team sort through and take photos of each item. It then goes up for sale on their website and also eBay too.
When your items begin to sell, you can choose how you receive the funds which includes a donation to charity. Please consider choosing St Basils! Any donation made, big or small, will make a difference to our Young People, thank you.
---
Shop with Amazon Smile

Support St Basils when shop this Christmas… at no extra cost to you!
Shop for all your Christmas presents and holiday essentials through smile.amazon.com!
Amazon Smile is a website operated by Amazon. It features the same products at the same prices as the standard Amazon site.
The only difference is, when you shop on Amazon Smile, the Amazon Smile Foundation will donate 0.5% of the cost of all eligible products to your chosen charity, with no additional costs to the buyer!
Signing up is easy!
Here's how to shop AmazonSmile:
1. Visit smile.amazon.com
2. Sign in with your Amazon.com credentials
3. Select St Basils as your charity to receive donations
4. Receive an email of confirmation
4. Start shopping!
5. Add a bookmark for smile.amazon.com to make it even easier to return and start your shopping at AmazonSmile. You can also enable it through your Amazon App! Just search Amazon Smile in the app's search bar.
---
Virtual Family 5K or 10K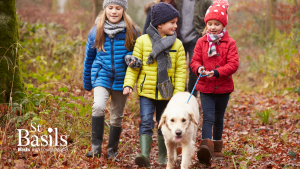 Looking for a fun challenge for over the holidays? Take part in our virtual Family 5K or 10K and raise vital funds for St Basils!
Bring your family and friends along for the journey and make sure you fill out our Questions & Task Sheet to keep everyone entertained throughout the challenge. Map out your distance before you head out and if you want to make it more special, why not dress up?!
Remember to make a donation to St Basils after taking part and if you and your family would like to use a sponsorship form to collect funds, please get in touch: fundraising@stbasils.org.uk
Take Part In The Family Challenge! Download the Questions & Task Sheet
---
Office Fundraising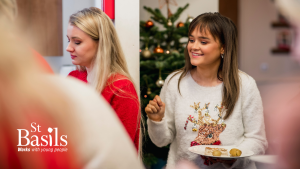 Secret Santa
Taking part in Secret Santa this year? Ask the office if they would like to make a donation in their Secret Santa's name to St Basils! £5 will provide accommodation and support for a Young Person in need. Alternatively, instead of spending £5 on Secret Santa pressies, ask your colleagues to set the limit at £4 and have everyone donate that spare £1 to St Basils.
Office Christmas Party
Donate a portion of your Office Christmas Party budget to St Basils, or perhaps donate the cost of a round of drinks! Enjoy your party knowing you have helped support St Basils and the Young People in need this Christmas.
Festive Bake Sale
No-one can resist a bake sale, especially when festive favourites are on the menu. From mince pies to Christmas pudding, there are hundreds of different things you and your colleagues can bake. Host a competition and when it comes to eating, ask for donations per slice!
Taken part in Office Fundraising? Click below to find out how you can donate your funds.
If you have any queries about Christmas Fundraising and would like to talk to a member of the team, please get in touch via: fundraising@stbasils.org.uk