Did you know we house over 500 young people every single night across our 35 supported accommodation schemes in Birmingham, Bromsgrove, Solihull, Redditch, Bromsgrove, Kidderminster, Walsall, Sandwell and now Leamington Spa?
Everyday, St Basils is running at a deficit and sadly we're short of £5 per day per young person staying in one of our projects.
This Christmas we're looking to our supporters for help.
We know Christmas can be a challenging time of year financially and that's why a lot of people do 'Secret Santa' with a £5 limit. But trying to find a meaningful present for £5 can be a challenge in itself.
What would be more meaningful is joining a wider campaign like this. We believe it is possible to end youth homelessness if every person in that community does what they can.
Please donate £5 today to help our cause this Christmas.
---
How can you support St Basils this Christmas?
Office Fundraising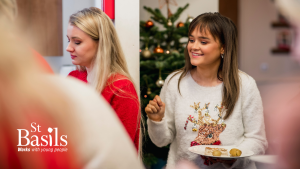 Secret Santa
Taking part in Secret Santa this year? Ask the office if they would like to make a donation in their Secret Santa's name to St Basils! £5 will provide accommodation and support for a Young Person in need. Alternatively, instead of spending £5 on Secret Santa pressies, ask your colleagues to set the limit at £4 and have everyone donate that spare £1 to St Basils.
Office Christmas Party
Donate a portion of your Office Christmas Party budget to St Basils, or perhaps donate the cost of a round of drinks! Enjoy your party knowing you have helped support St Basils and the Young People in need this Christmas.
Festive Bake Sale
No-one can resist a bake sale, especially when festive favourites are on the menu. From mince pies to Christmas pudding, there are hundreds of different things you and your colleagues can bake. Host a competition and when it comes to eating, ask for donations per slice!
Taken part in Office Fundraising? Click below to find out how you can donate your funds.
---
Your Cards In The Post…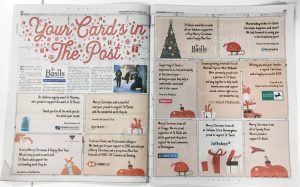 Instead of sending out traditional Christmas cards through the post, donate to St Basils and The Birmingham Post will publish your Christmas card for all your clients to see.
---
Christmas Jumper Day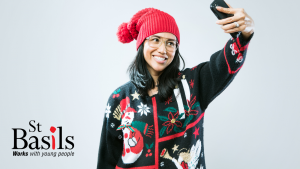 Christmas Jumper Day will be back for 2022, creating much-needed Christmas cheer and a chance to raise money for St Basils!
---
Christmas Clear Out!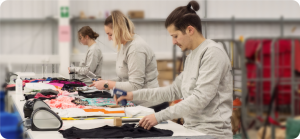 Christmas is coming and it might be time to clear some space in your wardrobe ready for the New Year ahead!
---
Shop with Amazon Smile

Support St Basils when shop this Christmas… at no extra cost to you!
---
If you have any queries about Christmas Fundraising and would like to talk to a member of the team, please get in touch via: fundraising@stbasils.org.uk