Solihull-based Animal Kind has a stall providing advice, and free dog treats, along with equipment such as treat pouches and long lines that could prove useful for participants taking part in the dog-and-owner obstacle adventure.
Part of their proceeds will go to organisers St Basils and Animal Kind will be giving a £10 discount off their services to anyone visiting their stall on Sunday, as well as giving 10% of any profits from the event directly to St Basil's.
"The Woof Run is right up our street as local trainers providing group courses to help owners and their dogs bond and improve obedience using agility and outdoor exercises you can use anytime, any place," said Helen of Animal Kind.
"We've loved taking part in the last two events with Luna – who will be with us on Sunday – and our other furry friend, Labradoodle Archie," said Helen. "This is a fun event in a wonderful location, with lots of space and time to go at your own pace. We are so happy to be involved," she added.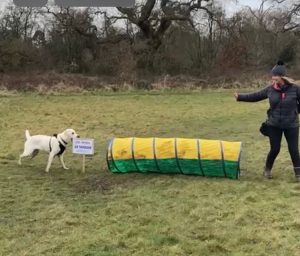 Pictured: Helen and Luna 
Chris and Helen have been providing personalised 121s and group training classes for over a decade in Dorridge and Solihull, and are looking forward to the chance to meet new and former clients on the day.
"Organisations which support homeless issues are very close to our hearts, especially during a long-term housing crisis and ongoing cost of living crisis," said Chris. 
"Having volunteered at an emergency accommodation shelter before, I know these places don't just provide shelter from the cold, but are also places of safety, emotional respite, warmth and comfort for people living on the streets." 
Chris and Helen trained under Steve Mann of the Institute of Modern Dog Trainers (IMDT) and Chris holds a Masters degree in Animal Behaviour and Welfare from Newcastle University.
You can find out more about their services and upcoming courses at animalkinduk on Facebook and Instagram or www.animalkind.co.uk