Partner with us
Are you a business or professional looking to make a meaningful impact in the lives of young people?
Is your business passionate about supporting the local community and building a brighter future for the West Midlands?
Find out more about our Charity Partnerships below!
Charity of the Year Partnerships
Choosing St Basils as your Charity of the Year presents a remarkable chance to rally your staff around a truly compelling cause- preventing youth homelessness, whilst showcasing your company's dedication to creating positive change in the community.
As a widely acknowledged and trusted youth homelessness charity deeply rooted in the West Midlands, we have the power to impact the lives of countless young people with your help.
All businesses partnering with us will receive:
A lead contact who will support you throughout the partnership
A proposal of how we can help your business meet its social value or corporate & social responsibility (CSR) aims and objectives
Brand alignment with a respected and leading regional charity
Engaging with you to create fun team-building opportunities for employees
Reach new audiences and grow your brand with targeted promotion and PR
Quantifiable value-added outcomes
Networking opportunities
Exploring recruitment opportunities through our employability program (if applicable)
Volunteering opportunities (if applicable)
You can see our 2023 Partners at the foot of this page- a huge thank you to all of them for their incredible support.
Interested? Contact us today by emailing Pauline Clarke for a friendly, informal chat:
Pauline.Clarke@stbasils.org.uk

Testimonials
Your Support Can Change Lives
"I am in a fantastic position now. I came back to the UK 16 years ago with the goal of obtaining an undergraduate degree and postgraduate degree and pursuing a legal career. That is exactly what I have done! St Basils foregrounded that my circumstances did not define me– this is something I have carried with me. St Basils' ethos is that – we were young people experiencing homelessness, not homeless young people. We still have the same dreams and aspirations as other young people."
Because of the support of St Basils, I achieved some of the highest grades in the country for my A Levels, and went on to study law at one of the best universities in the country and in the world. St. Basils ensures that relatively short but nevertheless important periods of  young people's lives do not derail a persons' entire future. They instil values in a cross-section of people that society often deems worthless." – Past St Basils Resident
Your support allows young people to access:
Accommodation and emergency housing for young people sleeping rough
A hub for support systems including mental health, substance misuse and mediation support
Employment and training opportunities
Watch below for a testimonial from Coventry Building Society about their Partnership with St Basils:
Locations
We're looking to partner with businesses in the areas we work in across the West Midlands region which are Birmingham, Bromsgrove, Coventry, Evesham, Kidderminster, Leamington Spa, Redditch, Sandwell, Solihull, Warwickshire, Worcestershire and the Wyre Forest.
We welcome partnerships with companies who align with our values and who are passionate about supporting young people to build a brighter future for our region.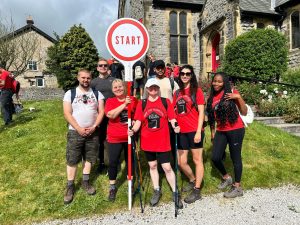 Get Involved
Events
We hold a number of events throughout the year, including our world famous Big Sleepout and our Hike for Homeless. We ask all of our Charity Partners to attend an event of your choice, where you can network with other companies, learn more about what we do, and most of all- have fun!
Volunteering
We have local projects in all of the above areas, in need of vital support and community. Many of our Charity of the Year Supporters enjoy visiting their local projects, especially for special occasions such as Christmas, Ramadan, and other community events. Some partners have even held classes and DIY upgrades for their local projects, including garden makeovers, budgeting classes and arts & crafts events. We also are always in need of volunteers for our events!
Staff Fundraising
Love to bake? Holding a corporate event, such as an awards show or dinner? Does your team like to do Group Challenges, such as running or step counting? Or maybe you're into payroll or birthday fundraising? There are a number of ways to bring your team together towards a mutual goal, and we're happy to assist you in any staff fundraising events, including sending materials, providing fundraising ideas and even attending events on behalf of our charity.
Cause fundraising
Like a specific aspect of what we do? Want to support our Live and Work project, or our Employability Team?
We can ringfence your funds so you know exactly where your donations go, closely following the impact of your contributions.
Easy Fundraising
Do you make online purchases as a company? You can support us by signing up to easyfundraising where St Basils will receive a donation for every purchase you make for your workplace.