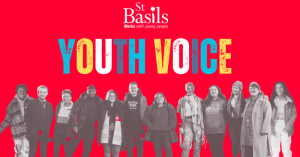 Here at St Basils, we have multifaceted engagement services to ensure young people are co-authors in their preferred future at an individual and a collective level.
Youth Voice is made up of young people aged 16-25 that have experienced homelessness, sharing their experiences to support and bring about change in the UK.
Collectively, our Engagement services are called 'Youth Voice'. This includes internally our Resident Rep Programme, Youth Advisory Board, Board of Directors, and Recruitment Youth Panels. Read below for a description of the full young people- lead initiatives we encourage at St Basils.
Be one of the first listeners to our new Youth Voice podcast, on either Spotify or Apple Podcasts!