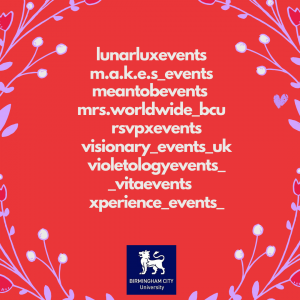 Since 2015 staff who lead the Fashion and Business course at BCU have supported St Basils in this way.
Students split up into small groups and decide on a name for their "Events business". They then crowdfund or bucket shake to raise some funds to then host a much larger event. The proceeds of which all comes to St Basils. The money raised will help support the homeless and vulnerable young people we work with back into training and employment.
How it works
The students are in charge of the whole process from start to finish. They decide on their Events business name, branding, the event(s), promotion and everything that happens on the night. Our staff are on hand to help with any questions and provide buckets and other fundraising materials but otherwise it is down to the students. We also support their advertising efforts by sharing any social media posts they tag us into. This tends to be particularly via our Instagram account @stbasils.charity, a social media platform most popular with young people.
Results

There's been some amazing ideas over the years from pub quizzes, to Caribbean themed evenings and a dining experience in the dark. We can't wait to see what ideas the students come up with this year!
The first year back in 2015 the students on this course raised over £8K between them for St Basils. Last year they raised a record-breaking £15K!
How this helps
The money raised goes towards our Employability programmes and the work of our progression coaches, helping young people to rebuild their confidence and self-esteem to give them the best chance of getting back into training and employment. The aim is to help them become self-supporting, as this is the most likely way in which they will be able to break the 'cycle of homelessness' and move on successfully.
The sorts of sums raised by BCU students can do so much for our young people in furthering these aims, so thanks so much again!
St Basils Fundraising and Communications team 
fundraising@stbasils.org.uk