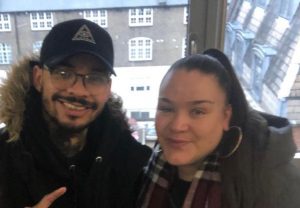 Joanna said of her time being supported by St Basils:
"I'm 43 now and I came to St Basils aged 16 because I was pregnant but didn't want my Dad to find out. It was 1994 and my son was born in '95. He's 26 now!"
"I stayed at Carole Gething House supported accommodation scheme for a few months then got referred to St Basils mother and baby scheme, Trentham House. I had my son whilst living there."
"The whole experience was ultimately a positive one, though of course it was all very daunting and I was very scared. The staff were brilliant though, at both schemes and made me feel very welcome."
"My support worker at Carole Gething helped me with everything I needed, got me set up and prepared, but I was still scared. I was really pleased that I'd got my own room, with my own little kitchen and bathroom, but once those doors shut, I realised I was on my own. It made me grow up though!"
"When I moved onto Trenham House, the manager Denise Smyth was one of the first people I was introduced to, and she's still there now, which is lovely! She's always been very professional but she's very motherly as well. Her door was always open and I felt I could go and talk to her whenever I was worried. It was still daunting at Trentham House but it was nice as well as all the other girls there were all in the same situation as me, so it felt much better."
"The staff were great when I had my son. They helped care for him and gave me advice on how to look after him. They have proper classes with experts coming in now. Back then it was just the staff, but they were very knowledgeable and caring and it was amazing to have that support. It made a big difference!"
"I stayed at Trentham House for a year and then I moved on to my own place. Staff helped me get a loan for some furnishings for it to help me settle in and that did help but it was still very daunting and there was no extra support at that time, whereas there is now and that's the service I now work for!"
Joanna thoughts on now being part of St Basils Lead Worker Service:
"In between times I was studying and then I worked in a children's home, but I always wanted to come back to St Basils, so I was really pleased to be offered a job here late 2019."
"I work for St Basils Lead Worker Service and I would have loved this kind of support back when I moved on, because I was still very young, and didn't know what to do."
"There's bills and council tax and other things that come into living on your own, and this is the sort of thing we help with and can explain about and ensure that payments are prioritised."
"We also talk to them about getting a job or getting back into education, and can support them with that. Initially we might advocate on their behalf with some agencies but the ultimate idea is to lead them to do these things for themselves so they can develop these skills and live independently."
"I work with some very scared young people with high anxiety, so it really helps that I can say 'I've been there, I've done it, you will be ok!' "
"It's definitely the right job for me. I find it very rewarding and it's great to feel I'm giving back to St Basils as they set me up for life, and now I'm here helping the next generation too".