Jay, 24, who has been living at St Basils since December 2019 and already has some experience in the field, said of the simulator: "This is a great tool! A great tool for teaching people! It's really good for these guys that haven't experienced it before as there's no danger."
Staff from Flannery Plant Hire also spoke to the young people individually about their training and paid apprenticeship programmes with offer over 300 hours of training on all the different machinery that Flannery's operate. This is followed by a paid 18 month apprenticeship that once completed will lead onto a job at Flannery's.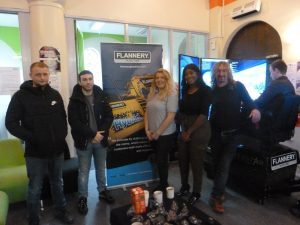 Flannery's are partnering with St Basils to offer these great opportunities. They already have two apprentices who have come from St Basils and started in January. They are keen to recruit some more for their next cohort starting in April!
"The event was a success!"
We can tell you now that the event has led to some great outcomes for some of the young people who attended. Three young people are planning to proceed with their applications for the paid Apprenticeships and the young person who already has the qualification and previous experience was able to register for job opportunities with Flannery's straight away. This means he could be out on site as early as next week!
Partnerships and Progression Officer Kashimar Munroe who organised the event said:
"I would like to thank Flannery's for partnering with us to offer these great opportunities and for bringing their simulator to St Basils. It really helped put it in context for our young people and made this recruitment event really exciting! Thank you as well to our Support Workers for some very good, spot on referrals. These young people are exactly what I was looking for! The staff from Flannerys were really impressed with those who attended. They are a fantastic representation of what St Basils can offer employers."
Flannery Plant Hire will be back for some more apprentices and qualified staff in the near future with another event at St Basils! Any young person at St Basils interested in attending this please talk to your Support Worker. Any other young people interested in applying for this amazing opportunity – please email a copy of your CV and a cover letter to p.nicholl@flanneryplant.co.uk.