In this special edition of Basil Bytes, we'll be shining some light on the amazing people who have chosen to support St Basils this year by running The London Marathon.
The London Marathon is a 26.2 mile run starting at Greenwich Park, pacing through the heart of London, and finishing to a roar of cheers and applause from people all over the world coming together for the love of running and accomplishment.
Our runners have been hard at work training, sharing their thoughts and ideas in our St Basils London Marathon WhatsApp group, and meeting up with us at our hub to collect their running tops over a natter and a tea!
The St Basils Champions
Kate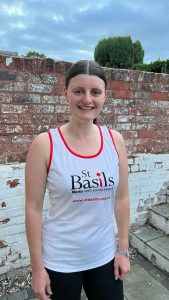 "I have been a supporter of St Basils for a number of years, and think that the work they do is incredible. Helping vulnerable young people who would otherwise be without vital means to support themselves and keep a roof above their heads is so important. What better mission could there be than to end youth homelessness? Playing a small part in helping St Basils to achieve this is a fantastic opportunity. I'd also like to support young people who find themselves in St Basils' housing accommodation so that they can have  the safety and security they need.
Everyone deserves a voice and everyone deserves a place to call home.
I am not a "runner", so taking on the London Marathon to support St Basils is a huge challenge for me- I have been running now for 10 weeks! When I first signed up to run the London Marathon for St Basils, there were 15 weeks to go until the event. I picked up an official London Marathon 16-week training plan for beginners, skipped the first week and off I went (I have run a couple of half marathons in the past but my running shoes have been hung up since then).
If I can do it, anyone can. Raising money for such a fantastic cause is really keeping me motivated during my training. Wish me luck!"
Ash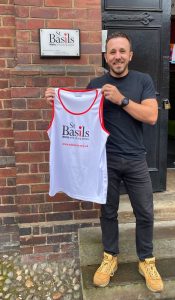 "I have known of St Basils for a long time, I have a couple of friends who work for the organisation, and I also work for a social housing organisation in Birmingham, so I'm very aware of the work that they do. I decided to fundraise for St Basils as they are an amazing organisation who are doing real tangible work. I have raised money for them before when I did the 100 mile Velo Birmingham cycle ride. Every single pound raised really makes a difference to the young homeless people in Birmingham.
This will be my 3rd Marathon… I don't talk about my first one (Birmingham 2017) as it all went wrong!! I tore my hamstring at mile 18 and walked the last 8miles in agony!
I was then due to run London 2020 but we all know what happened there. Then one week before the 2020 virtual Marathon, I broke my foot. Fast forward to London 2021 virtual, which I completed at nice leisurely pace. Extremely excited to give this years London Marathon a real good go and give it everything I've got – it's iconic and has been on the bucket list for a while. 
My tip for runners/ aspiring runners- smile – it really does help! 😃
Regarding running, I love the freedom and variety of runs you can do depending on mood and surroundings. Fast, slow, road, trails, hills, solo, groups – I also love that it is inclusive to everyone!! No special kit required- pair of running shoes and you're good to go!!
I'd love to run 3:20:00 at this marathon, but realistically anything under 3:30:00 and I'll be thrilled!"
Hannah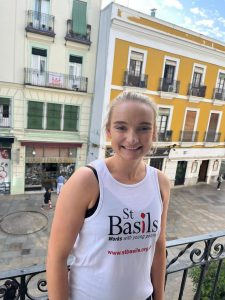 "I've always enjoyed running and love how it clears your mind and releases those endorphins!
The London marathon is a challenge I've always wanted to tick off the list. After taking part in the Birmingham half a marathon for St Basils in April, I couldn't pass by the opportunity to take part in the London Marathon. 
I'm raising funds for St Basils as they carry our vital work to support young people at risk of homelessness/ homeless. As a young adult I cannot imagine being in that position in those crucial years of development.
All young people should have the opportunity to learn and feel safe/ supported. The more raised, the more St Basils can help support 16-25 year olds to have a brighter future. 
To help reach my fundraising target of £2k I'm hosting an afternoon tea garden party- there will be an entry fee and we will be selling homemade cakes & tea/ coffee. There will be a  a raffle/ bingo with a chance to win fabulous prizes!"
Dan S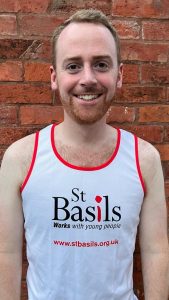 "My wife, Kate, used to work for a company in Birmingham that did a lot of work with St Basils and we started doing fundraisers pretty much from the start. 
Having lived in and around Birmingham for over a decade, it is really evident that there is a lot more we can all do to help end youth homelessness in the city – I'm just doing my small part. 
I have never done a marathon, but have done 2 half marathons in the past. It has always been on my bucket list and I love to challenge myself and push my limits – and what a fantastic way to do it, raising vital funds for a fantastic cause. 
Even with a busy life, you can always find time for a short run, and it gives you time to think, relax, stay fit and healthy and a little bit of 'me time'.
I'd obviously love to surpass the £2k fundraising target between my wife and me. As for time, I'm really pushing for a sub-4hr marathon, and I'd be ecstatic with a sub-3:50. 
My tip for runners is- just go for it; you'll be surprised what your body can achieve!"
Dan G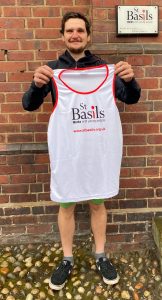 "When I moved back to Brum in 2015, I took up a role working at Birmingham City University. The Raising and Giving society there had started doing a lot of really top stuff fundraising around campus for St Basils. Through chatting to them I was alerted to the great and valuable work of St Basils.
I have fundraised for St Basils before, partaking in their Big Sleepout events. I believe the work they do in providing much needed assistance, support and guidance to the young people who find themselves without a home in the city is truly indispensable. I'm honoured to be a small part of their fundraising and hope I can help to contribute to their fantastic work.  The awareness St Basils generate on the housing crisis facing thousands of young people, not just in Brum but across the country, is massively commendable. This, along with how they do it, in bringing people and communities together through their fundraising activities, those such as the big sleepouts and hikes, its just fantastic to see.
I have always ran for, and predominantly by myself. It's been a fairly selfish pursuit, in doing it for my own good and whenever I fancy. But running the London Marathon and running it for St Basil's is so not about me, and that's the motivation. To be involved with the St Basils community, and to be mixing with the many other marathoners and cheerer'on-ers on the day is what is exciting and motivating me.
I have run a couple of marathons previously, and a couple of further distances. But they have all been on trails and not the road (or paths…). I'm excited to get my road shoes on and have some fun running through the city streets. Have particularly enjoyed dodging the wheelie bins on a Wednesday morning. That's something you can't get on the trails.
I've always loved the heightened connectivity with my environment that running gives me, be that the top of some mountain trail or meandering through the depths of Spaghetti Junction. It's a gateway to feeling free. It's also so simple. After a few years of running these senses and feelings were starting to get silenced and suffocated and over complicated by technology and the constant checking of stats and keeping running logs. I decided to ditch the watch and stopped keeping a track of my 'progress'. Now those feelings are back, and I've never felt so enabled to just go and leg it around the canals.
So, I guess, try not to worry about time or distance or stats or progress. Get your trainers on and run for as long as you fancy. And have a singsong while doing it. Always have a singsong.
I'm quite focussed on getting my fundraising up to 4 figures and onto the 2k target, that would be great. The only goal I have for the run itself is to have a super fun time, possibly whilst wearing fancy dress!"
Matt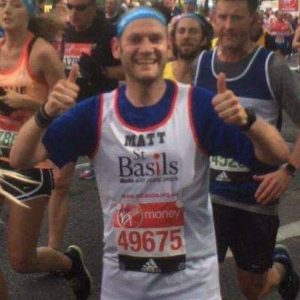 Liz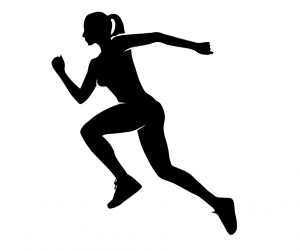 Richard