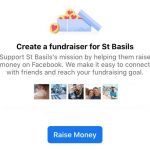 Hello lovely supporters!
Just to let you know you can now donate to our cause through facebook! Just use the donate button at the top of St Basils page on facebook. You can also create fundraisers for us by clicking on the fundraisers tab on our page or by following this link: https://www.facebook.com/stbasilscharity/fundraisers/
Perhaps you have a birthday coming up or want to organise an event to raise funds for us or take on a challenge. Whatever it is this is the easiest way to encourage family and friends to support you (and us!).
Thank you so very much! ❤️🙏
---
St Basils Fundraising and Communications team
Meet the team