In support of St Basils, Youth Voice Project Manager, Tamzin Rosser-Reynolds, will be running the London Marathon in April 2019!
Running is something close to Tamzin's heart and has helped her to build strength and resilience, mentally and physically, for the past 3 years.
So, why London Marathon? Why St Basils?
Tamzin has worked at St Basils for nearing 20 years and has positively supported hundreds of young people, experiencing homelessness across England; to build confidence, resilience and self-belief, encouraging some of these young people to become role models for others experiencing homelessness.
Unfortunately, one young person, named Alan, passed away in August 2018. Alan was an exceptional role model, he became homeless aged 17 but went on to graduate from the University of Birmingham with First Class Honours in BA Education and successfully obtained employment with the Civil Service.
Alan is greatly missed and will always be remembered by St Basils and The Youth Voice Team.
But what better way to honour Alan, than to run the London Marathon in his memory; by symbolically representing the struggles and successes he achieved throughout his short life.
With your help, Tamzin would like to raise greatly needed funds for the youth homeless charity St Basils; whom supported Alan and other young people like him to achieve some of their greatest goals in life.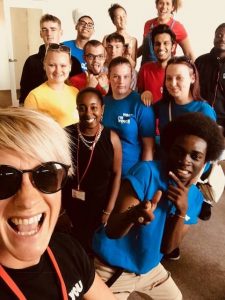 Tamzin strongly believes that homelessness should not be part of growing up, however, unfortunately that is the reality for so many 16-25 year olds today. Every penny donated will be spent on support services working with young people, to ensure they have the best start in life. However, this does not happen overnight, it can take intensive work for months or even years, to help a young person gain the skills needed to live independently and successfully within society.
Any donation would be greatly appreciated. Please help Tamzin achieve her target of £2000 for St Basils youth homelessness charity.
This one's for Alan!
To donate please visit: https://uk.virginmoneygiving.com/TamzinReynolds-Rosser
---
Every year St Basils has 5 places available for anyone wanting to run the London Marathon who is confident they can raise at least £1000 in sponsorship. If interested, please contact fundraising@stbasils.org.uk