In honour of 'Giving Tuesday' 29th November 2022, we are appealing to local businesses to donate their website homepage to us for just one day to help raise awareness of Youth Homelessness in these difficult times.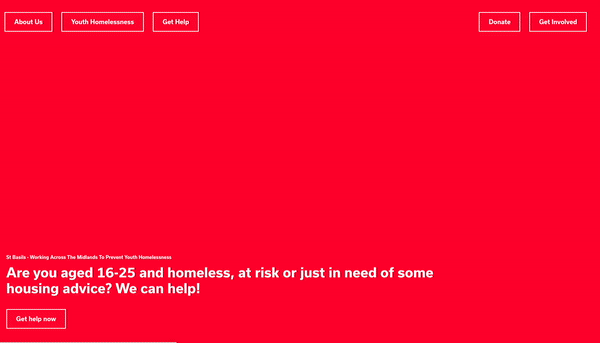 Once there, site visitors will be able to access information on the work we do, as well as donate.
We are working closely with Birmingham based marketing agency, One Black Bear to implement the overlay on websites from a range of sectors. A specially commissioned animation (shown above) will feature on the site that demonstrates the importance of the day and the work we do in the West Midlands in tackling youth homelessness.
The unique partnerships between ourselves and businesses from right here in the West Midlands will raise awareness for the issue of youth homelessness, as well as giving the public a platform to donate.
Barrie Hodge, head of fundraising and marketing said:
"Donate your homepage is an innovative way for local and national companies to help us raise awareness of youth homelessness in our region, unfortunately with the cost-of-living crisis our services are needed more than ever. All the companies who want to get involved need to do is contact us and we will send instructions on how to donate their homepage to us on Tuesday 29th November. It's simple and easy to implement. This year is our 50th year and it would be wonderful if 50 companies joined the campaign"
At St Basils, we work to grow confidence, develop skills, and prevent homelessness for those aged 16-25 in the West Midlands.
If you are a business and would like to donate your homepage, contact fundraising@stbasils.org.uk expressing your interest, and one of our team will be in touch.