What do you do when a global pandemic cancels all your fundraising events? Start a series of marble races that gain a worldwide cult following, of course!
Back in March 2020, the St Basils events team set up the Digbeth Derby during the UK lockdown for COVID-19. Designed to be just a bit of fun, it has gone on to amass a cult following with over 110,000 followers worldwide, as well as its own merchandise line and fan pages. We were a bit surprised too!
Named after our headquarters in Digbeth, Birmingham, the premise is simple: nine marbles race the track, with expert commentary, and one is named a winner.  Pick from Red, Yellow, Light Blue, Dark Blue, Black, White, Grey, Green or Orange. The current track is actually the second one after our first one, made from wood, began to disintegrate. We have replaced it with sturdier one that could withstand the British weather.
How does this fit with fundraising and youth homelessness, we hear you ask? Well to start with it really was just a bit of fun. 2020 was shaping up to be an unusual year and with some time on our hands and a wish to focus on the 'fun' in fundraising, we wanted to do something to spread some cheer. Since TikTok announced the European Creators Fund and our much-requested merchandise line, we're raising money that goes directly into supporting the work that St Basils does. Each comment, like and share on TikTok, or T-shirt bought, goes towards ending youth homelessness.
Digbeth Derby Merchandise
Check out of range of merchandise, from T-shirts to stickers, mugs and hoodies over on the Digbeth Derby store. All of the profits we make go directly to St Basils.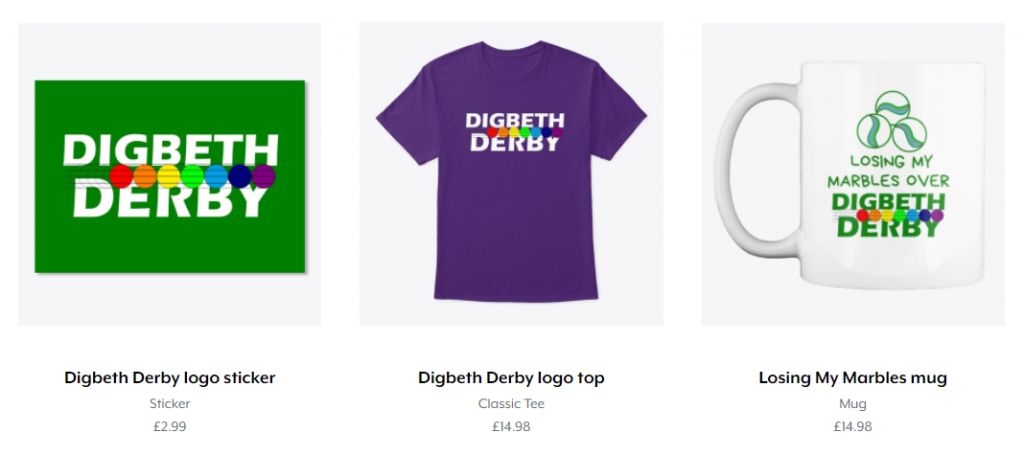 Digbeth Derby on TikTok
This where the Digbeth Derby comes alive, with over 110,000 followers, fan TikTok accounts and plenty of support in the comments. Find us on TikTok @DigbethDerby where we upload several times a week.
Digbeth Derby on YouTube
We've recently started uploading the marble races to youTube, in part because our followers asked us to when it looked like TikTok might be banned in the US, but also because we thought we'd share the love a little further. Find us as Digbeth Derby over on YouTube too.