St Basils two new schemes, were completed in October and November 2020 respectively.
One is delivered in partnership with Cornerstone CIC. This project has 20 units for young people, offers a high standard of dedicated temporary accommodation and will ensure young people have access to support.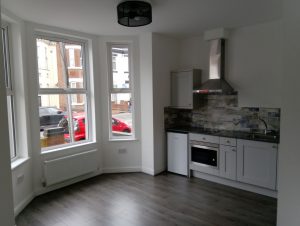 The second, called Lorna Esien Court, provides high quality apartments with on site management and support. The former sheltered housing scheme, purchased from Citizen Housing, has been significantly remodelled for young people thanks to the wonderful support of Heart of England Community Foundation and their Building Better Lives programme, and also Homes England.  It offers 32 fully furnished self-contained units with kitchen, bathroom, sitting area and bedroom in each unit and has been completed to a very high standard with latest health and safety technology and affordability. Young people will be encouraged to engage in education, training and employment programmes supported by their progression coaches to build their skills and confidence and achieve their goals.
This project has been named after our much-respected former Deputy Chief Executive Lorna Esien, who worked at St Basils for over 26 years and very sadly passed away in November 2019.
We would also like to thank our partners ENGIE for spending their staff volunteering day with us and using it to create a community garden at Lorna Esien Court for the young residents to enjoy. They used £5K of their own money to purchase the materials to create this, meaning there was no additional cost to us.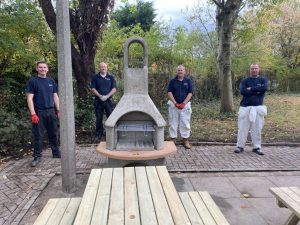 Jean Templeton, Chief Executive of St Basils said; "We are so pleased to have been able to deliver on our commitment to young people in Coventry by providing two schemes which offer good quality, safe accommodation, that will help young people in Coventry find the security and support they need. We are very grateful to our partners and our funders for helping us realise this ambition."
---
Main Photo (top) caption:
In November 2020 a small number of St Basils staff and our funders Heart of England Community Foundation visited the completed project. In the photo from left to right are: Steve Hale, project lead of Lorna Esien Court; Barrie Hodge, Head of Fundraising and Communications; Phil Ewing, Chair of the Heart of England Community Foundation and Tina Costello, Chief Executive of the Heart of England Community Foundation.