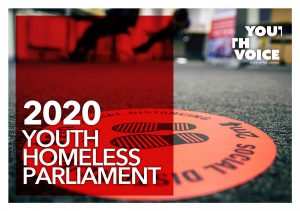 Download: Youth Homeless Parliament 2020 report
Preparation for this years' Youth Homeless Parliament event began back in February, with a two day training session bringing together young people from across the country with an experience of homelessness. Here, young people worked on confidence and team building exercises to create a supportive environment in which to share with each other their experiences of homelessness.
Through sharing their experiences, both the good and bad, they identified common themes and these became the basis for the 2020 Youth Homeless Report.
Delving further into those themes, the young people identified good practise and recommendations around early intervention, supported accommodation, mental health and wellbeing, further and higher education, benefits and work, and post-independent support. It is those recommendations that make up this report.
Due to the coronavirus pandemic, a physical meeting of the Youth Homeless Parliament was not possible and so the Parliament moved online and once case numbers and restrictions had been reduced, the group mobilised themselves and recorded their lived experiences and report findings; no small feat with social distancing still in place, a lack of professional equipment and the group scattered across the country. Members joined Kelly Tolhurst MP, Parliamentary Under-Secretary of State for Rough Sleeping and Housing where they premiered the short film they had produced, which included powerful stories of young people's lived experience and summarised their key recommendations.
The Parliamentary Under-Secretary of State for Rough Sleeping and Housing thanked the group for their hard work and fed back how the government was taking steps to address some of the issues raised in the video report. She was keen that the video was circulated widely to help inform parliamentarians and decision-makers.
Despite the unusual circumstances, the event was a real success!