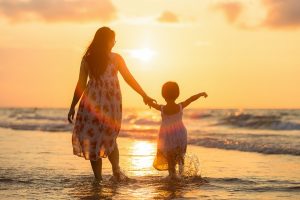 A former young mum who lived at St Basils' mum and baby scheme briefly in the 1980s, recently took part in our last BIG SleepOut along with five of her CIH colleagues. Here she shares her story: 
"Always willing to do my bit, and always happy to volunteer for anything that pops up.
So when it was to raise awareness for homelessness of 16-25 year olds and the charity was St Basils I was definitely up for it, as the cause and charity are both very close to my heart.
I was 16 years old and pregnant, yep a gym slip mum in the 80s, and not having the best relationship with my family I found myself lost and unsure where to go and what my next move was going to be.
Visiting the Citizens Advice in the city centre, they managed to find me a bed in an Asian woman's refuge in Bearwood, I think because of my name they thought I was at serious risk from my family, which wasn't the case.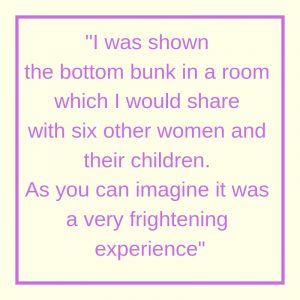 Arriving with a shopping trolley full of my worldly goods I was shown the bottom bunk in a room which I would share with 6 other girls/women and children; as you could imagine it was a very frightening experience.
To make matters worse I couldn't speak the language, so when the others were trying to communicate with me I didn't have a clue. Then there was the food issue, I was told we had to take it in turns to cook for the household, this alone sent shivers down my spine as my only culinary skills included boiling a kettle and pouring it into a pot noodle.
I was shown the kitchen with all the herbs and spices, as the only food which was cooked was Asian food. On the stove was a pot of mince and peas, which didn't look the best.
I couldn't stay here, and going back home wasn't an option. I managed two nights, took myself back to Citizens Advice, and explained my dilemma.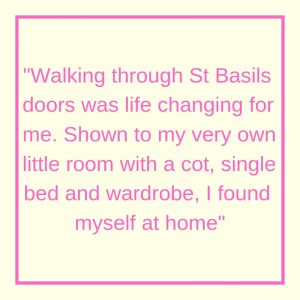 Mary, the adviser, contacted St Basils and I was then taken to Acocks Green to a mother and baby unit. Walking through those doors was life changing for me.
Shown to my very own little room with a cot, single bed and wardrobe, I found myself at home. I was to share the little flat with one other girl, which was fine, we had our own kitchen and bathroom, it really was heaven.
I was supported in getting benefits which I'd never heard of let alone realised I'd be entitled to, I was registered with the hospital and doctors. I now really was a grown up and about to embark and the biggest journey of my life, and the responsibility of caring for another human being.
St Basils provided parenting classes, they showed us how to budget, the importance of paying bills, they taught us the importance of our well being and that of our babies.
The one thing which stuck with me, was the type of parent I wanted to be, I didn't want to be a statistic which would live a life on the dole and because of my situation have no prospects for myself let alone my unborn baby.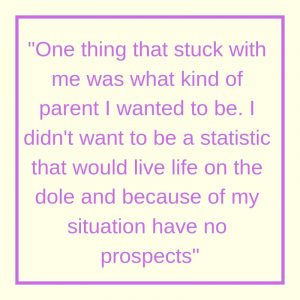 Thankfully that showed, and was recognised by the support worker, her name was Margaret.
I was enrolled in a schooling program in Nechells for teen moms, and attended 3 times a week; I was able to sit my CSEs and managed to do pretty good considering my situation.
The best day of my life arrived when I gave birth to my beautiful daughter, weighing in at a healthy 7lb 6oz. She really did rock my world.
St Basils provided me with all the help and support, enabling me not to require any help or assistance from social services which trust me was always a worry when you're a 16 year kid with a kid yourself.
The day arrived when it was time for me to move on, St Basils helped me secure my very own home (albeit a tower block) it was mine and my little girl's. I was provided with aftercare for 6 weeks just to make sure I was coping. I was no longer under St Basils, but I knew they were just a call away if I needed them. Thankfully I never had to make that call.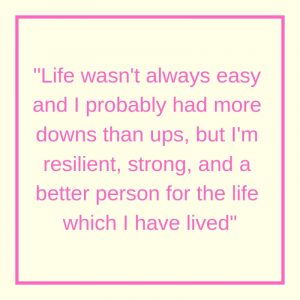 St Basils provided me hope and a light for one of the scariest, darkest times in my life and I will always be truly thankful. So to be able to give a tiny bit back to St Basils, I would do it again in a heartbeat.
Life wasn't always easy and I probably had more downs than ups, but I'm resilient, strong, and a better person for the life which I lived.
I am happily married, my little girl grew up to be an amazing young woman who has been successful in her own journey, I had 3 other children, a son who is hard working and has his own business, a son who longed to join the police force, but settled to becoming a successful estate agent, and a daughter who attends university to fulfil her dream of becoming a barrister.
So I didn't become a statistic and my children have been raised never to take anything for granted and to always do something for others if they can, they know their momma's journey and often remind me of the strong amazing mom I have always been. I'm proud to watch my children with their own children, as it's a world apart from my own childhood.
So for this I thank St Basils for the opportunities which I doubt would ever have come if I hadn't discovered they existed."
*Names have been removed and a stock image used to protect identity.