Wear it Red for World Homeless Day on Tuesday 10th October 2023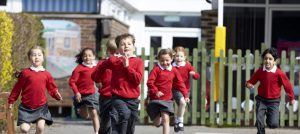 St Basils is a local charity that's all about supporting young people who are experiencing homelessness or are at risk of becoming homeless.
We know that schools are an essential part of our community, and we believe that together we can make a real difference to the lives of young people in our area. Homelessness is an issue that's affecting more and more young people, and St Basils is committed to providing support to those who need it most.
We also understand that students may be experiencing difficult situations at home, which could put them at risk of homelessness. At St Basils, we want to make sure that all young people know that there is support available to them, and we believe that working with schools is a vital way of achieving this.
But here's the exciting part: we're not just asking for help – we're offering it too! By working together with local schools, we can help students become more aware of the challenges facing young people in our community, and we can work together to provide support for those who need it.
In line with this, we would like to invite schools to participate in World Homelessness Day on Tuesday 10th October. We kindly request that all students wear red on that day to raise awareness about homelessness. As part of this initiative, we encourage each pupil wearing red to donate £1 to St Basils charity. The funds raised will directly support our programs and services for young people in need.
Furthermore, St Basils will provide a 15-minute bespoke presentation that can be emailed to the school and used in a school assembly. This presentation will explain the work of our charity and how the money raised will be spent to make a positive impact on the lives of young people facing homelessness.  It will also help educate young people on what homelessness is. We can also provide lesson plans for PSHE or Social studies lessons. You can request the St Basils School Pack here.
There are so many other ways in which schools can help, too- fundraising events like sponsored sleepouts, walks, or bake sales, can raise vital funds that will allow us to continue our work. Plus, these events can also be a lot of fun for students and teachers alike! We can also provide information that helps students learn more about youth homelessness and mental health. These resources can help break down stigmas and misunderstandings while providing students with a better understanding of the challenges facing young people today.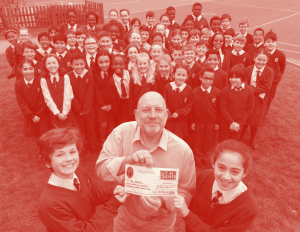 Working with St Basils can be an incredibly rewarding experience for schools and students alike.
By partnering with us, you'll be able to make a real difference in the lives of young people in your community. Not only that, but you'll also be able to give your students a sense of purpose and help them develop key skills like leadership, organization, and communication.
We would be thrilled to discuss with you the ways in which we can work together to support young people in need. If you are, or know of, a local school who would like to take part, please email Pauline Clarke for a friendly chat: