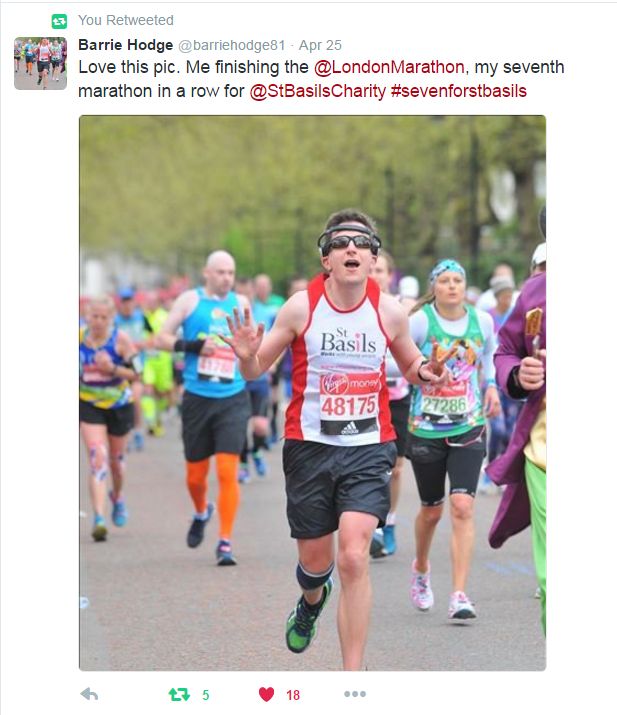 I don't know about you but for me 2017 flashed by in a blur. I didn't do half of the things I set out to do.
The end of January is fast approaching and it's time to get some challenges booked in to make this year the best yet.
I have so many (slightly annoying) friends who are great at this kind of thing. They spend their weekends throwing themselves out of planes, running up mountains, diving into open water swimming, and a range of other super human activities all in aid of some fabulous charities. One of those very energetic, motivated people is our very own Head of Fundraising, Barrie Hodge. With seven marathons in seven days (yes, really) included in his long list of completed challenges we thought we'd ask Barrie for seven tips on actually doing – and not just saying 'I can do that':
1. Set a goal. Book the date
The number of times I've said 'YES, I'll do it' when someone's asked me to take part in a challenge but then time goes by, other social events get booked and the day of the challenge comes and goes without any more thought, followed by 'oh well, I'll do it next year, promise'.
So the first tip is get it booked. Whether it's a fun run, charity walk, Iron-man or marathon, sign up and tell people. The power of that booking and the expectation of your friends and family will push you through the tough training regime.
2. Make a realistic plan of action
How much spare time do you have to dedicate to this challenge?
If you work long hours, have a busy social life, lots of family obligations, a dog to walk, will you achieve this?
Work out how you are going to do it, it's all in the planning. A trek to base camp requires a lot of physical time-consuming training. Jumping out of plane requires more of a strong stomach than strong thighs.
You may need to drop a few social occasions, ask other people to take on some of your family responsibilities while you train for your event, get up an hour early and fit your training in then. Think of ways you can incorporate those workouts into your daily routine.  Walking the dog is a workout.  Take the stairs instead of the lift.  Why not take the family on a walk?  It all counts.
3. Keep a training diary or use a training App
A great way to keep track of your progress is to keep a record of your training, log your workouts, distance etc… A great app for this is strava.  It's available for all smartphones and is free.
It gives you a chance to look back at the progress you've made and you'll be amazed how far you've come in just a few weeks.
It's also helpful if you've had a bad patch, you can look over the results and see where you've gone wrong, maybe you've pushed yourself too hard one week and you're suffering for it the following one.
There are some great mobile Apps that do this for you, you can even share your training with friends so you can challenge and encourage each other.
4. Ask for help
Have you got a friend or friends who would like to take part in the challenge too?
Or maybe they don't want to commit to the challenge but they are happy to help support and train with you.
Having a training buddy really helps to motivate each other and keep on track.
5. Be consistent
You will not see results immediately, if you're inpatient like me this can be hard. But it's really important to stick to the plan. Results take time, consistency, hard work and patience. Keep at it, it will be worth it.
6. Surround yourself with likeminded people
Support is vastly underrated, having people on your side really helps. Don't struggle alone. Tell all your friends and family what you are doing and ask for their support, if they see you're struggling they will be there to help you get back on track, and remember a bad day is just a bad day, forget about it and get back on plan the next day.
7. Get organised
Make sure you have all the right kit, shop for new trainers if you need to (but remember, never put new gear on for the first time on the day of the challenge – one word, blisters), make sure your training stuff is comfortable and easy to wash and even easier to dry.
Always have your kit ready to hand, if you're getting up at stupid o'clock in the morning to train, make it easy for yourself. Have everything at the end of the bed so you don't have to search around for it, it's too easy to say 'I'll not bother' if you can't find your stuff.
---
If you would like to throw yourself into a challenge and help St Basils at the same time we would really appreciate your support.
Our Hay-on-Wye walk is a fabulous way to fundraise for us, we have 7, 14.5 or 23.5 mile routes. Wonderful scenery, physically challenging and I'm sure there's a pub near the finish line. Wye not?